Joined

Feb 2, 2011
Messages

14,787
Location
... because Sandsini was in the same line of work and posted already this morning !!
This is my first attempt at a kitless. . I used a 5" Alumilite blank so being limited by the available length, the cap is a bit shorter than I would like.
I chose to "copy" an El Grande because it seemed fairly easy with the tools I have (taps and dies).
Like Sandsini, I kept it very functional, straight lined and square shouldered.
I didn't make the section ... it's borrowed from an El Grande kit.
The cap and body are not flush, and overall it's a bit on the fat side. Plus it is unpolished but I like the matte look. . All of that can change at a whim !
I decided to make it postable as you can see.
I can still change a few things, like adding a clip and a feature cap to extend the length of the screw-on cap.
This being my first kitless is a practice pen and I won't say what mistakes I made ! . Not the same finesse as Eric's posted this morning but it's a start ! I must say that I had a lot of fun making it up to this point.
As always, C & C are very welcome.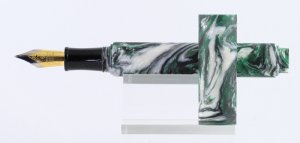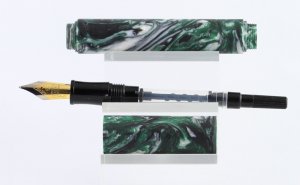 Last edited: