Joined

Feb 2, 2011
Messages

14,787
Location
Just wondering what y'all think -
(1) For those of you who use the "old-time" razors (non-electric and non-straight), do you prefer to use (a) a safety style razor, or (b) a Mach 3 style razor, or (c) a Fusion style razor ?
Those 3 styles are all available as kits from various manufacturers.
(2) I have almost completed (except for polishing, and maybe reshaping) my first kit razor of the safety style, and include a picture below. I have shaped it for what I think is a good grip, as well as ease of shaping and polishing. It's a double conical shape, so it's fat in the middle. How does this shape seem to appeal to you aesthetically ? Do you think you would find it functionally OK ? Would it sell ?
The kit is available from CSUSA, William Woodwrite, and maybe others.
The blanks (one for razor, one for stand) are Lava Explosion from Eugene.
All comments, critiques, questions, and discussion appreciated.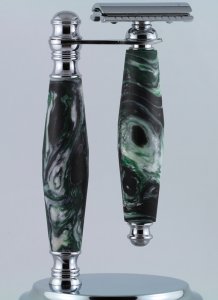 Last edited: