Joined

Jan 24, 2005
Messages

6,506
Location
Our local community center has a wood shop, and the woman who manages it gave me several "cut-off" pieces of cherry, as well as some Purpleheart (always nice to get free wood!). When she gave it to me, she told me her favorite wood is Purpleheart. I promised her that I'd bring her a pen as a token of appreciation. Well the weather didn't cooperate last week, and though I promised I'd bring it on Saturday, I'm just finishing it tonight. I'll be dropping it off on Wednesday, when she's there again.
I wanted to do something a little different, and to really "jazz up" the Purpleheart, so I stuck it in the toaster oven for a while. Although the pic below isn't clear, you can see the difference in color, which was the point of the pic. The part in the middle is the cut-off from the blank. I cut and drilled before I heated it, and the color change went all the way through the blank. I baked it at 350 for 5 minutes without seeing any change, then upped the temp to 400, where the blank sat for another 10 minutes or so.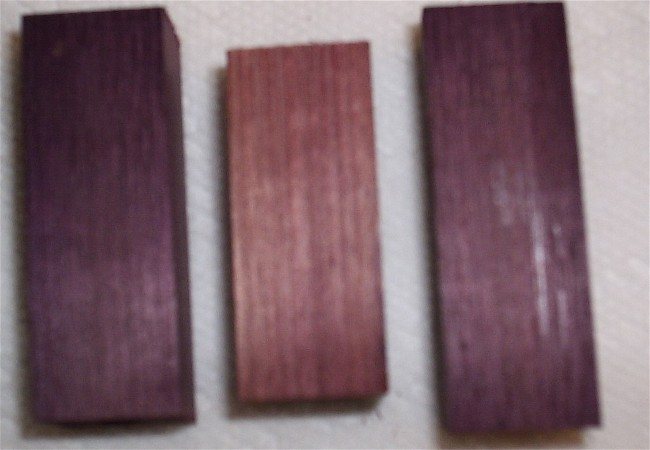 Any way, this is my first attempt at beads and coves that I've actually taken all the way through to a complete pen. I think they came out OK on this one. It was meant to have a centerband, but I had an "issue" when I went to glue up the upper half of the pen; the purpleheart was still hot, and the CA set up REALLY fast! The tube got stuck 1/2 way in the pen, which was very frustrating! I cut the tube off as tight as I could, then glued the other part into the other side. Of course, that left a gap in the middle of the upper blank about the width of my bandsaw's blade. I didn't realize that it would be a problem, 'till I tried to slip the upper half onto the transmission. Of course, with my luck, and with the CB in place, the top of the transmission sits in the gap between the tubes! Without the CB, it is great, nice and tight, but with it, it is too darn loose. So, it's going without a CB!
Hits/tips for my next time?