Joined

Jan 5, 2013
Messages

576
Location
OK, I decided to try my hand at blank making. I bought some of this stuff at Hobby Lobby: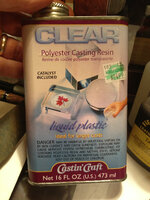 How much of the catalyst do I need for two ounces? The chart on the container doesn't make much sense to me as the thicker the layer the less catalyst you use. Seems like it should be the other way around.
I used 8 drops of catalyst per ounce (so 16 drops). It seems like its taking for ever to get to that "gel" state.