Joined

Nov 2, 2020
Messages

3
Location
Hi everybody
My name is Adrian and I am a new wood turner.
Back in the day, in a previous life in my home country (Netherlands), I worked as a lathe specialist in the steel industry.
I moved to the US, found a completely new career, and picked up woodworking as a hobby.
I started with scroll sawing, but good hooked on watching wood turning video's.
(especially the wood and resin ones)
I finally decided to buy a small lathe.
I have no garage or basement, therefor I am limited in space.
The 10 inch turncrafter was the perfect fit for me.
It fits on my workbench (which is in the laundry room) next to my table saw.
My scrollsaw, mitersaw, routers and drillpress are upstairs in the spare bedroom LOL.
It works for me, and my wife is used to having sawdust throughout the house.
I started making pens right away, but I definitely want to try bigger pieces as well.
Pen making is fun, and in the few months I have my lathe I have made about 25 pens,
and even sold a bunch to friends.
The segmented pen was my third pen, and more of an experiment to see if I like doing that stuff, and yes I do.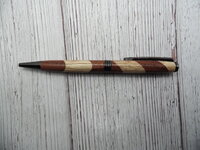 I also love the "non wood" types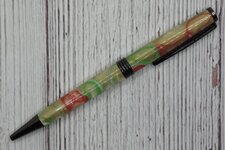 Anyway, I am happy to have found this site,
since I am a person who starts with something without knowing what I am doing.
So I might have a lot of questions.
Regards
Arie