Joined

Jun 23, 2011
Messages

1,565
Location
I thought I would post the two pens I entered this year. My plan was to enter every contest. Of course schedule and time always seem to keep me from my ambitious plans. So I was able to get two pens entered this year.
The first pen is an entry in the Pretty Resin contest that happened to win. I used a blank that I purchased years ago from Jonathon Brooks. It is from his vintage series of blanks. Jonathon Brooks is really one of my favorite blank makers. I have made a ton of pens from his blanks. I still hold on to a few of his blanks for fear that I will run out of the PR blanks he used to make. He mostly makes Alumilite blanks now and I think they are mostly for custom pen makers but I could be wrong. Here are some additional photos of my entry: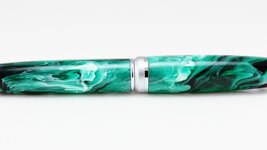 The other pen I entered was in the kit less or what I like to call the custom pen contest. This one did not place because of the awesome entries from others. Competition was tough this year. This blank was also from Jonathon Brooks. As I said earlier he makes a few Alumilite blanks for custom pen makers. I acquired a metal lathe over the last year for creating some custom pens. While you can (and I have) do it with a wood lathe the process is much less frustrating on a metal lathe and I can get so much more accurate.
I will not get too much into the description of how I made it. There is not too much special about it. It has been the best custom pen I have made on my new lathe to date though. I was proud of the threads since they came out really clean.
Here are some photos: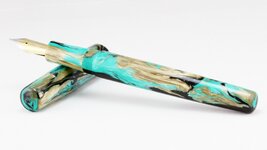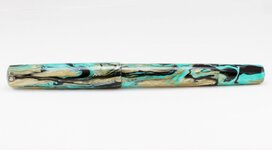 Thanks to all those that run the contests and make the Bash possible. It is fun to enter and participate. Thanks also to those who donate the prizes. While it is not the primary reason for entering (having fun is) it is nice to be rewarded when you do well.
I hope that everyone had a good time with their entries. As I said about the kit less contest there were some really great entries and I am not surprised that I did not place. I really liked all of them.
Enjoy your pen making!! Have a great day!