Joined

Aug 6, 2009
Messages

6,506
Location
Well, after we got our first cat ever (Luna) just over 1 month, the sweet creature though that she had the house and us all for herself but I continued looking for a small to a medium dog that after weeks of wasting my time with the animal shelters around this state, I got very disappointed with system they have and the inexplicable red tape they put you through and the time it takes to get anything done, so much for expecting people to adopt their animals, it seems that deliberately keep the animals for as long as they can to justify all the donations they get, I was supporting 3 local shelters with a small amount every month, that has been removed, really not impressed.
Anyway, I realised that I would have better chances to get an animal through either "Trading Post" or "Gumtree" a great buy, sell, swap, place here in Australia.
Last Sunday I saw an add on Gumtree for a Chihuahua cross 2 years of age and nothing wrong with her, the fellow said that he just had no time for the dog, he said that he asked $100 to know the dog was to a good house ($100..!@ really...?).
She had to be picked up that day so, we got in the car and drove 100km to his place. This fella in his 50 odds didn't look all there, his attitude and responses to our questions were either vague or ignored but, as soon as we crossed to the back yard, this little "fluffy" dog was all over us, rolling on the ground belly up and very playful, his coat/hair was so long a sign that she hasn't been groomed for a very long time and in no time Merissa had her on her harms and that was it, she settled down enjoying the warmth, we paid the $100 and we were out of there, one could see that he was happy to see her go...!
So the following images are of Mia that was put on the Gumtree add;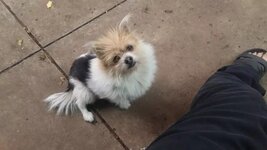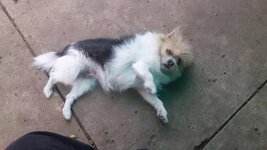 We got home from a drive under heavy rain and just before dark, looking at Mia walking on the house we noticed that she had some sort of a limp and a strange way to move her hips, we soon realised that she had some issues in that area that needed to be seen by a Vet.
A couple of days later we booked her for grooming and then took her to the vet for a general health check, vaccination and microchipping, desexing would be taken care at a later time, look at Mia now...!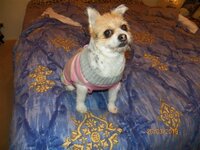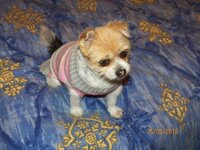 According to the vet, my age suspicions were correct, Mia was about 5 and not 2 as we were told, she also suffers from Medial Luxating Patella on her knees and she requires surgery for Lateral Imbrication and Tibial Crest Transposition so both knees have to be done. This explains Mia inability to jump up into a couch or even stand on her back legs, she tires quickly when outside walking about.
From the impression we got when we picked Mia from her former owner, we could tell that she spent most of the time outside and nothing was ever done to her to make her comfortable with her legs, I doubt that this poor animal has ever had any care and attention given to her apart from the fact that she would spend long periods of time on her own outside.
We are sorting all that and giving this beautiful girl the love, care and attention she never had and most definitely we will find a way to get her legs fixed so that she can do the things normal dogs do. The interaction with Luna the cat and Mia started rough, Luna would panic and disappear to hiding while Mia would look for her, I believe Mia wanted to play but the way she did it scared Luna, every day gets better, today was the first day we saw Luna making an effort to come from hiding to look for Mia and have a bit of a sniff at each other, we can see that Luna is the one making most of the effort to make friends, that is, until lunchtime today when someone brought in another animal, this time a Border Colie Male 6 months old purebred and full of beans.
This was after I saw an add on Trading Post on Friday about this young dog that the owners were trying to rehome due to some changes on circumstances, despite the fact that this dog cost him $1,000 at the breeder he was willing to let the dog go at no charge with all his toys, bed, etc., and all the paperwork, the only thing that was not yet done to this dog was desexing, he is still a bit young for that, the balls have to drop first, only one did the other one not yet.
We got here about 12:00 lunchtime and what a beautiful dog he is, being full of beans does not give justice to this dog, he is crazy fast and smart, still a puppy and he does a lot of puppy stuff, when Mia got introduced to him, the hell broke loose and poor Mia was made into a rag doll, this young dog plays very rough and was obvious we have some work to do to make them be friends and get along so, meet Harley the 6 months old male Border Colie "machine", the pic was the one on the add;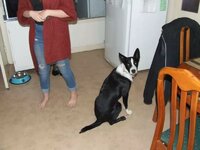 For the rest of the afternoon, I had Harvey with me on the backyard while doing a few jobs in between showers of rain, one of the jobs was to prepare a small order for tomorrow posting, so I called Harvey is the Lolly-shop and while I was doing my thing I noticed that she was a little too quiet, so I looked and there she was chewing on some of my pen blanks that were on the bottom shelves, I just couldn't make her stop, she will grab one run outside while chewing it up, come back for more and kept doing this for a good 30 minutes, non-stop, I would chase her trying to get the blank out of her mouth but, she is just too smart and fast for me so, by the time I finished with that small order that should have taken 10 minutes or less, I looked around on the floor and outside and I could see a bunch of blanks, somehow, he seemed to know which of the blanks have the most value and those got a good chew up some like this Amboyna burl 2 tone stabilised blank and others;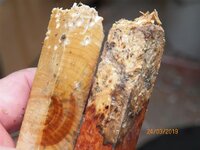 Tired of running after him without success, I decided to grab the camera and take a few pics of his work in my lolly-shop, what am I going to do...?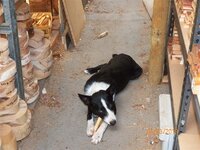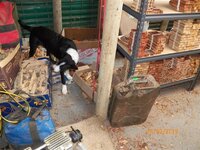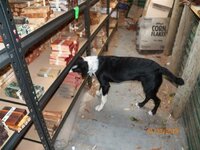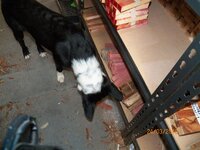 After dark and on time to go to the house for dinner, as soon as Harvey got through the front door, hell broke loose again, the cat went flying and Mia tried to defend herself but Harvey wraps his arms around her and lays on her, poor Mia...!
We have the house full of toys as we do also outside but inside she just runs a much and doesn't stop jumping on everything and everybody, Merissa and I, we got exhausted trying to keep the peace, tomorrow I will be buying a very tall cat scratch tower where Harley can't reach but still allow the cat Luna to be in the main room with everybody and see what's happening, we hope that Harley after a few days start getting all the smells of everybody and start to be more workable and kind to Mia, I'm sure Luna will get Hairy on the nose unless Harly kills her first.
That's all my fault, Merissa picked the cat but I didn't stop until we got a small dog first but after we got Mia, we were still missing a bigger dog in the house and me as a mate to go hunting birds and rabbits, not forgetting a companion when I'm in the workshop.
The question tonight is, did I ate more than I can chew...? am I ever going to make these animals friends with each other? are we ever going to have a peaceful home with this lot...?
I hope we can manage...!
PS: We are now a family of five...!
Cheers
George
Last edited: