Joined

Aug 6, 2009
Messages

6,506
Location
Well, I apologise for not having any pics of the actual slabber in action, I never thought about it until I got home and had a shower, however, I promise to take the camera (actually I had my new mobile phone with me but I never thought about taking pics, silly me...!) tomorrow and take some nice pics.
Anyway, I was supposed to have these Macrocarpa logs slabbed before the Winter but things didn't turn out as I planned but recently I got an order from the Koi knives guys (the people I cast the knife handles for) for me to build a 900 x 400mm chopping board top with table frame and drawers and for that, I need longer pieces of wood for the legs, front, back etc., what I had already cut and in stock were a few large pieces of clean wood I squared some months ago from shorter logs I had in my storage paddock but none were any longer than 600mm and I need longer than that.
In fact, most of the chunks I had square were used on another order from these guys that I have just finished that was 16 knife holding racks, some for wall mounting some self-standing, all cast with their 6 main colours and joined Hairy Banksia pod core slices (book matched) and some dry leafs' from that same tree growing in my front yard, all this was finished with clear epoxy resin of about 1/4" thick, all racks have 5 or 6 sets of large magnets to hold their large knives in place, I took no pics of them finished that will be done by the Koi guys as they prepare them for their web-store listings. I can only show you a pic of these racks after clear resin casting, these look very different after finished, particularly the ones self-standing with legs, I may do a dedicate thread about these racks if the guys are OK with it.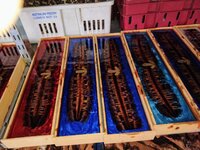 The weather has been pretty nasty, rain and more rain but yesterday, today and hopefully tomorrow the sky opened up in its blue glory and sunshine so I struggled to get myself ready and find someone to help me out (the hardest part). There are 5 logs to be slabbed 2 longer at about 2.3mt the rest are shorter from 1.2 to 1.5mt long but some are about 3' wide, my goal was to slab one of the longest ones today and slab 2 tomorrow one long one short, the rest will have to wait for a while (Summer).
I have enough for this table frame and drawers from the log I slabbed this afternoon and that I then cut its length in half, more manageable that way but also long enough for the longest pieces, this wood is very lightweight, the logs have started to rot as they have been exposed to the elements for about 12 years or so, the wood is more than dry so I can start working on it pretty much immediately.
I leave you with some pics I took after I had my shower, they are not much but that's all I've got for today, sorry...!
If the weather holds and my saw body keeps together I should be able to slab the 2 logs I have planned and leave the wood stored under plastic at the paddock I can always get some more if I need.
PS: The chainsaw is home to have its chain tighten and serviced for tomorrow.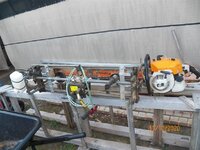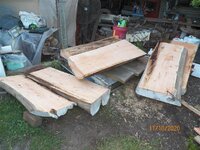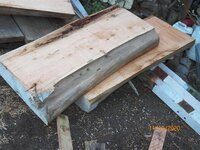 Cheers
George