Since I started turning pens a few years ago, I was working on a cheap Chinese 8x12 mini lathe. Once I got things shimmed and set up properly, it actually worked just fine for pens and other (very) small projects. Even trying to turn a bowl more than about 3" in diameter it would really struggle. After about 3 years, I could never quite pull the trigger on a new lathe, thinking "I don't even use mine that much, why spend $500-$1000 on a different one?" So about a month ago I posted the little guy on CL, thinking maybe if I didn't have a lathe at all, I'd be more likely to take the plunge and buy something new.
After about 3 weeks of hemming and hawing, it worked. I came home to a new Laguna sitting on my doorstep Friday. Besides some shipping damage (which I won't get into until it's all taken care of), I'm beyond happy with this thing! It's smooth and super quiet. The tailstock and banjo are smooth and tight. The variable speed works wonderfully (the old lathe had VS too, which is part of what spoiled me to it). Belt changes are super fast and easy. Everything's just.... lovely.
I found a guy locally who always has a stock of walnut, quite cheap. I threw a chunk on a faceplate and turned my first (small) bowl in months. It probably would have taken me 2+ days to finish with the little guy, between bogging and frustration, I whipped this guy out in 2ish hours today, between bolting on the faceplate and applying a finish. Not "fast" of course, but not bad for someone who's only turned a couple bowls ever. I'll get a picture tomorrow, it's drying.
The new lathe also meant I ran out of room on my bench, so I picked up a cheap butcher block Craftsman for now. That leaves the big bench open for more long term projects.
Now I've got a big pile of walnut and a couple blanks I've had around for a year+ that I just couldn't bear to turn on the little guy, and I can't wait to crack into it. And yes, there will be more pens soon too.
Passion renewed.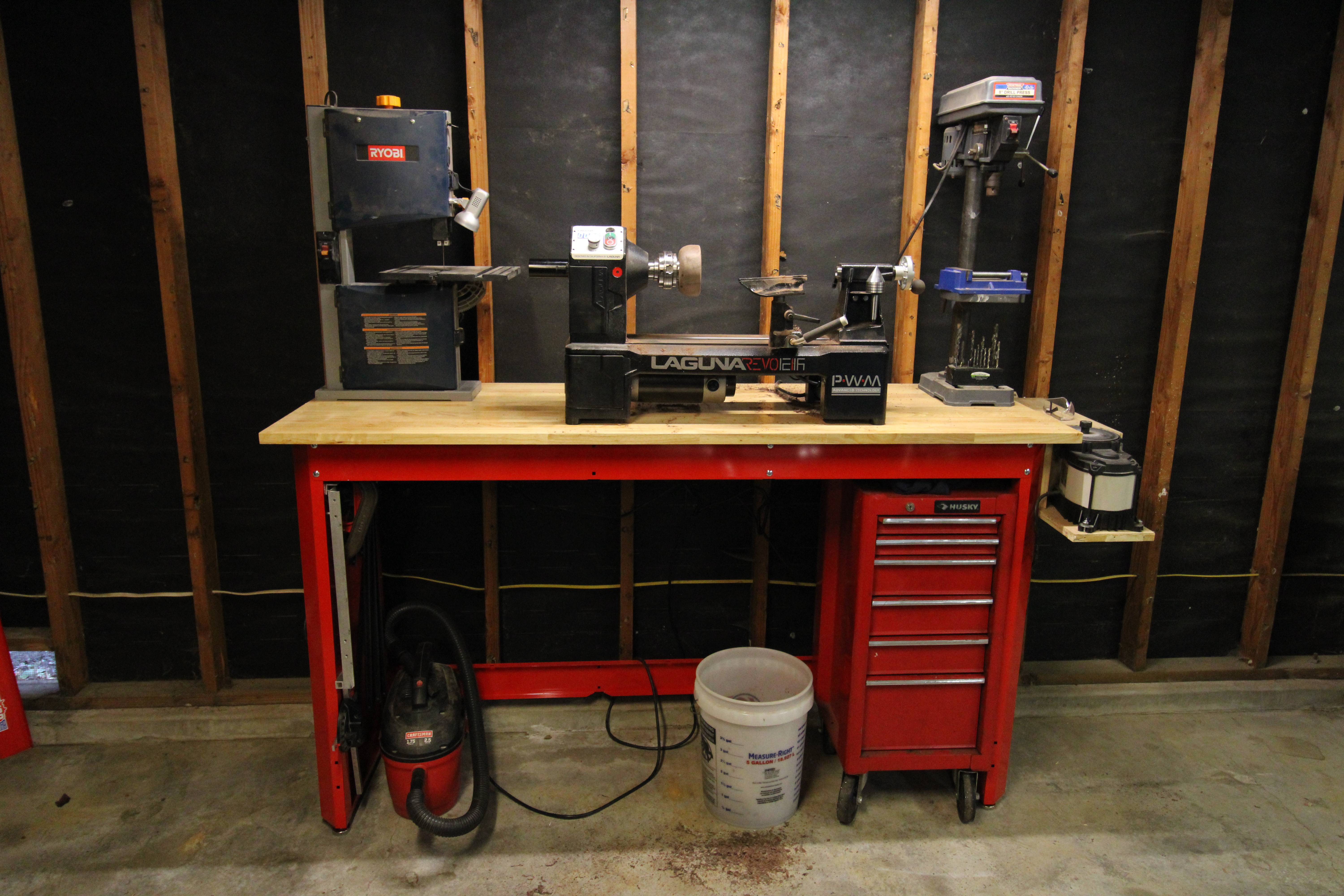 Now to go buy more lights