Joined

Jan 24, 2005
Messages

6,506
Location
I did these this weekend: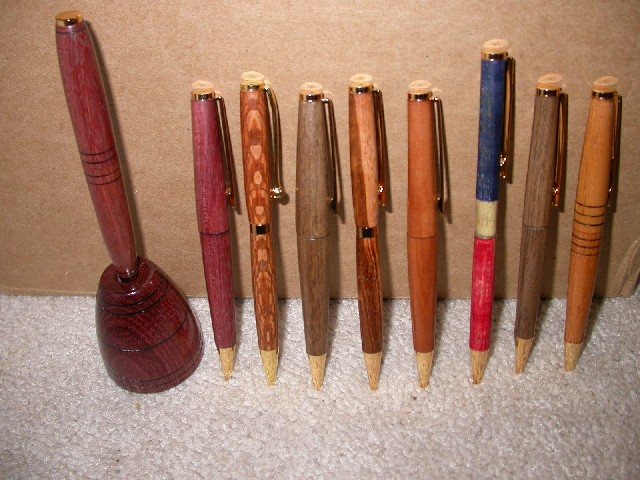 From L to R, they are:
Purpleheart desk set
Purpleheart
Leopardwood
Walnut
Mystrywood 1
Mystrywood 2 (fruit)
Combo of Mystrywood 2 and "spalted hardwood dowel" wood
Walnut
Mystrywood 3
Close-ups are in my album. Feedback is appreciated (other than, get a tripod and better lighting - it's packed away somewhere!), as is any help figuring out the mystrywoods. I think Mystrywood 1 may be Goncalo Alves; it is hard and dense like Cocobolo, but more brown than Cocobolo. Mystrywood 2 is some kind of fruit wood; it smelled really nice when turning it. Mystrywood 3 is a real mystery; very light weight wood. All of the wood except the purpleheart was donated by NESLS for use in the FPP (which is where all but the purplehearts are headed). I have another blank from this batch, and they also offered to send more free of charge for those participating in the FPP. I also ordered some other blanks from them, and they look really nice!
I'm going to post the desk set and the RWB pen separately, too.