Joined

Mar 22, 2005
Messages

2,690
Location
I turned and finished 2 and 1/2 pens tonight! (1/2 half of a Maple pen is lying in shards on my shop floor!) This is a picture of the Kingwood pen, and there are pictures of the Bacote pencil in my album.
The Bacote pen is fair, I rushed, and this wood needs something to fill the pores I think.
The Kingwood turned out very nicely. I sanded to 800, and used the "Masters Finish" on it. I burnished the blank with a paper towel just before the finish dried, and it made a difference. I think it helped the finish, especially between the Bacote and the Kingwood.
Funny, the spot you see in the middle of the top section is not a flaw, it is the chatoyancy in the wood. When I was preparing the pictures for the web, I saw that spot, and I freaked!
This one is my best yet, I think... Thanks for looking, and comments and suggestions are greatly appreciated.
Kingwood Pen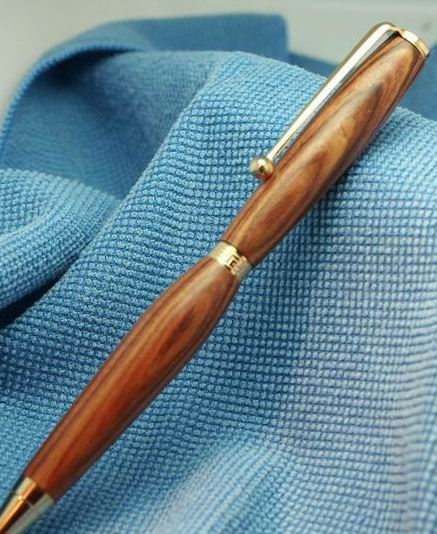 Bacote Pencil