Joined

Nov 24, 2018
Messages

3
Location
Hey guys, I have been making YouTube videos about pen making for over a year now and i made a video when a past 500 subscribers with a pen containing 500 segments and said I would make a pen with 1000 segments in if I got to 1000 subscribers.
Well that video has had over 500'000 views and I am now over 8000 subscriber so it was about time I made it!
Its made with a couple of sheets of veneer and some maple burl and has been one of the trickiest and enjoyable things I've done for a long time.
Here's a link to my video, I hope you like it!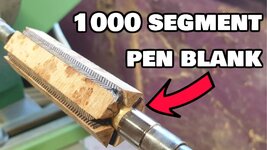 https://www.youtube.com/watch?v=3Kz4CYqZ7_Y&t=7s
I will post some photos of the build on here shorty so you can see some progress pictures! :biggrin: