Passed Away Oct 4, 2013
In Memoriam
Joined

Mar 17, 2004
Messages

1,979
Location
Been experimenting with multiple wood pens to see if they are worth it for the upcoming Christmas craft season...
This one is Western Cedar with Ebony cap and ring. The ring is a captive ring, not floating like most center rings.. a little trickier to set up but the fit comes out a lot nicer.
Finish was sanding to 320.. a little BLO sanded in with 400 grit.. then 3 light coats of cellulose sealer sanded to 12000 MM and Renaissance wax...
Only 2 little problems:
1. The different wood densities makes is imperitive that I take very light cuts or I ended up cutting too deep into the cedar coming off the ebony with my skew chisel...
2. Ebony sanding dust gets into the open pores of the cedar, but comes right out if wiped with mineral spirits between grits.
I have a couple of other combos I have glued up.. walnut with cocobolo cap... and ebony caps on curly cherry, cocobolo and a piece of mystery wood...
<center>
Western Cedar with Ebony Cap and Ring
</u>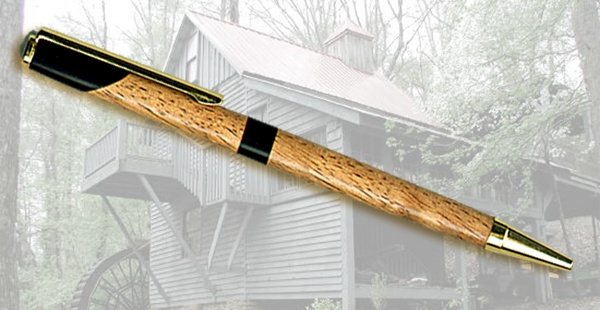 </center>