Warm Greetings to all Craftsmen here gathered!
I have been turning (in my father in law's shop) for 8-10 years and collecting fountain pens for as many years. In the past I have played around with the idea of "penturning" but wasn't particularly attracted to the typical "ballpoint" pen kits as pens.
Recently, my renewed deep delve into vintage pen restoration lead me down the primrose path to re-explore the idea of making pens. Only, this time the idea of making a true old school fountain pen.
In my research I discovered the popular youtube videos of the fountain pen master craftsmen and I was hooked on the idea. I read everything I could find about fountain pen manufacturing and current making methods. I watched every single video (many of them from your fine members past and present) that was available. I have scriven two notebooks of notes and drawings. Pen plans, tools plans, custom piston filler plans. So many plans..
Then I started buy tools. Taps and dies. lathe cutting tools (metal lathe), lathe tools (wood lathe), calipers.
Then I started buying blank material (slanted toward "traditional" pen coloring and style because of my pen collecting). Japanese ebonite, german ebonite, Acrylic...
I then made the leap into my FiL's workshop (a master Luthier wood shop,). I spent 6 hour failing miserably at making my first section. I went through 3 full black acrylic blanks. Using first the Jet wood lathe and then the Emco Compact 8 metal lathe.
I failed and learned I didn't know enough about precision lathing. So, I went back to the learning. I watched 100+ hours of precision metal and jewelry lathing videos. And reread the IAP library relevant articles.
More notes...
And finally, Aug 6th 2018 The First One was born.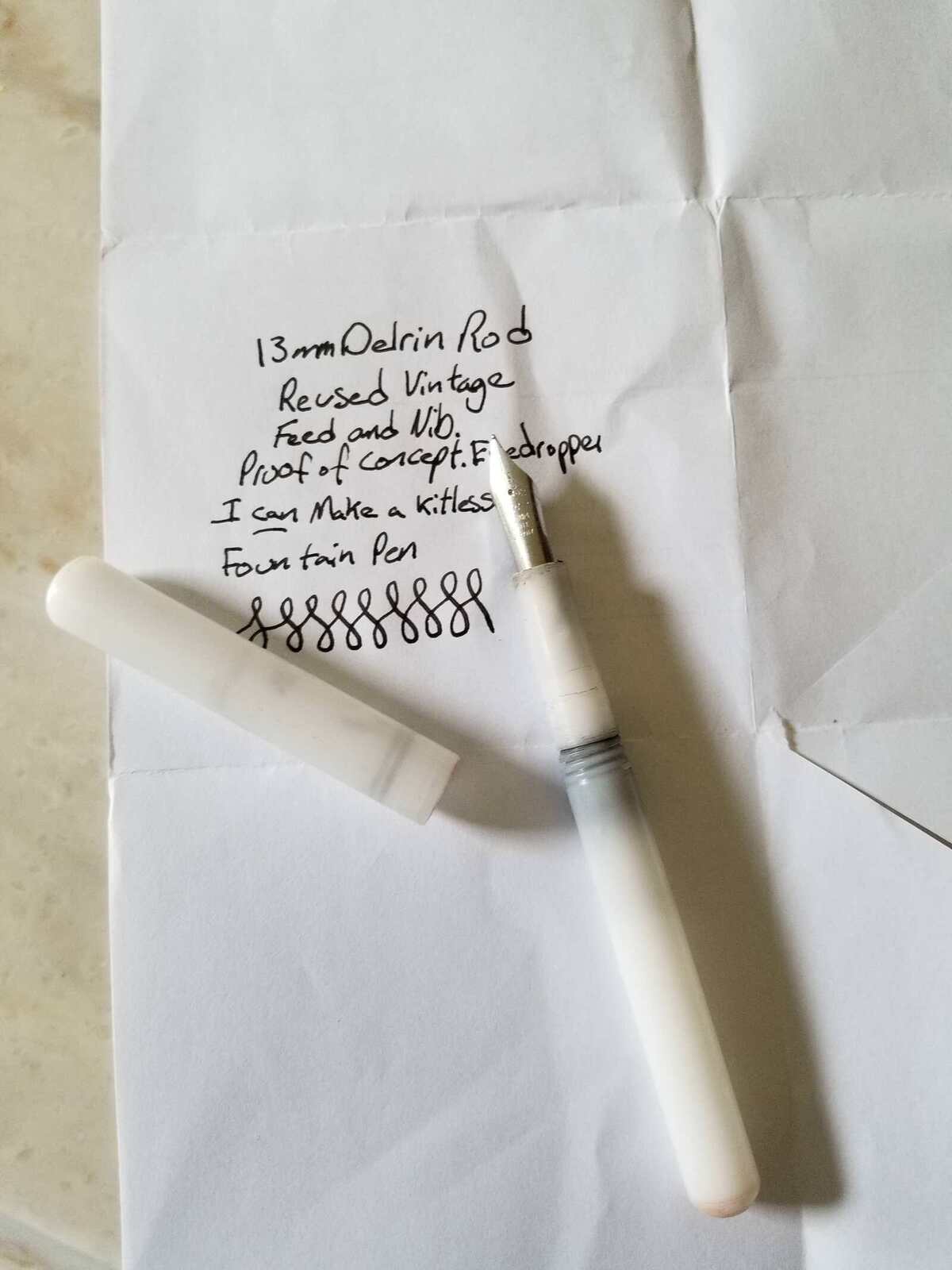 It demonstrates that I have at least now the first level knowledge needed to create the cuts and operations to make a completely bespoke fountain pen. My level of self pride can scarcely be calculated.
So, I am here to learn, be criticized and enabled in this mad, mad journey into baroque chirography.
Good to be here after so very much lurking.
JW
Last edited by a moderator: