Joined

Jul 17, 2017
Messages

2,218
Location
Wanted to share this as it meets my needs well. Bought a stabilizing system from another IAP member which included the small Hold Fast vacuum chamber.
Since I am just starting and experimenting, small batches and different woods/colors are the norm. I was trying different containers in the pot but just wasn't happy. Told wife I needed to find some small diameter straight sided flat bottom containers no more than 6 inches tall and ideally small enough in diameter to get at least two in the chamber.
She noticed the 6 pack of condiment bottles at Sam's for less than $5. They meet my needs perfectly. There is a shoulder at 5-3/8" and they are 6 inches deep. With 4 blanks 5-1/4" long they can be submerged in Cactus Juice, the shoulder secures them from floating and you have about 1/2" of headroom for bubbles.
Plus, I can get 3 bottles of 4 blanks in the chamber. If blanks are a little thin or you only have 3, a small weight such as a bigger nut can hold things down. 3 batches, 4 blanks, 3 different colors at one time.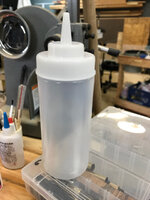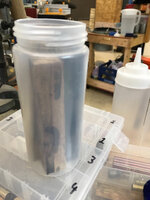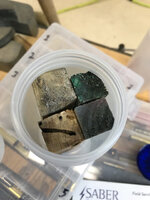 Sent from my iPhone using
Penturners.org mobile app