IAP Activities Manager
Staff member
Joined

Jul 5, 2009
Messages

8,589
Location
We have some winners! A few lucky members are getting off this train with some great loot. There were 16 left over prizes for the losers train. Your name was listed as it was posted in the Losers train sign on thread. I used random. org to generate the number sequence.
here are the winners and their prizes. Congratulations to all that won
FIrst the random generated list of numbers..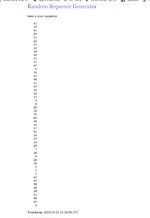 next the winners and the prizes they won.
| | | | | |
| --- | --- | --- | --- | --- |
| 41​ | | NT_2112 | | robutacion GC $50 |
| 17​ | | SteveG | | Exotic blanks gc $50 |
| 51​ | | walshjp17 | | Bob F pen Blankds |
| 25​ | | MDWine | | Erichardson BOB |
| 53​ | | mg_dreyer | | Erichardson BOB |
| 46​ | | Leo S Long | | Alumilite $30 gc |
| 31​ | | Rob Mc | | Alumilite |
| 33​ | | Miller Turnings | | Alumilite |
| 10​ | | GaryMGg | | Alumilite |
| 16​ | | azrickster | | Walshjp17 BOB |
| 21​ | | Jehster1 | | greenacres2 BOB |
| 23​ | | Wade3574 | | Edgar $25 GC to Exotic blanks |
| 47​ | | MRDucks2 | | Edgar $25 GC to Georges bits o timber |
| 5​ | | Humongous | | rockb BOB |
| 39​ | | mbroberg | | jlroch BOB |
| 43​ | | faywambolt | | jlroch BOB |
Last edited: