Joined

Oct 18, 2005
Messages

5,695
Location
4/21/10 I am VERY sorry guys. Things got a little mixed up on the shipping of the blades to everyone. I printed the labels and took the boxes to my office and left them in the outside accessible storage room where the mail person usually picks them up for me. I requested a carrier pick-up when I printed the labels but I guess there must have been a fill-in driver this week or something so they never looked in the normal place. Today I just happened to take something else back there for shipping and found all of the boxes still sitting there. I will personally take the boxes to the P.O. tomorrow to make sure they get out. Once again, sorry for the undue delay.



4/10/10 I broke into the boxes today and not everything is here yet. I do have some of your orders complete so those will be shipped out on Monday. The remainder will be shipped as soon as I get the other box and sort it all out. One HUGE kudos to the INCREDIBLE CUSTOMER SERVICE at Cyber Woodworking...see the Vendor Reviews forum for more info.

4/09/10 I received 2 big boxes of blades today! I am not sure if all of the blades are here since I have not had time to open the boxes and the last buy I did, I got deliveries for a couple of days. I will unpack and start sorting tomorrow and will start getting orders out on Monday.
3/27/10 All payments recieved, blades ordered. If this order follows previous bandsaw blade buys, it will take 2 weeks or so for me to get them.
3/21/10 Update: OK Folks, I have finally pulled it all togther. To make thing easier for me, I have uploaded a breakdown of everyone's totals to my website. Please visit
www.turntex.com/blades.htm
and make sure the information I have for you is correct. I will be ordering direct from that list so you are responsible for making sure it is correct. If you agree that everything is correct, please send the amount shown in the Grand Total box via Paypal to
BladeBuy@turntex.com
. PLEASE make sure to include your IAP name and make sure your Paypal account has your address included so I can print the shipping labels through Paypal.
Group Buy summary:
What:
Any
Lenox
bandsaw blades in any size
Supplier:
ToolCenter.com
Buy Closing Date:
As soon as 30 baldes are ordered
Group Buy Minimum:
30 blades
Discount:
25%
Shipping:
Default to $5 If your order costs more to ship, then I will let you know and expect payment before I send them to you
Insurance:
Optional but I will not be liable if you choose no
Payment Accepted:
Paypal only
Paypal and other Fees
: $.30 plus 3% on total including shipping. There will also be an additional fee of $1 per order to cover the shipping from vendor to me.
International Orders:
Welcome
Back orders Allowed:
NO. Money will be refunded
Details and ordering instructions:
If you have not used
Lenox
blades, you are missing out! Their Diemaster blades are super blades that last a long time and cut wonderfully.
This particular type of buy is complicated due to all the variables involved so
PLEASE FOLLOW THE DIRECTIONS
to the letter. If not, you will make too much extra work for me and I will have to reject your order and ask you to do it over. Here is the best way I can see for it to work...
1. Visit this website to select your blades:
http://www.toolcenter.com/BANDSAW_BLADES.html
2. Click on the type of blade(s) you want to order and enter the length you need as well as the quantity you want to order. The page will look similar to this: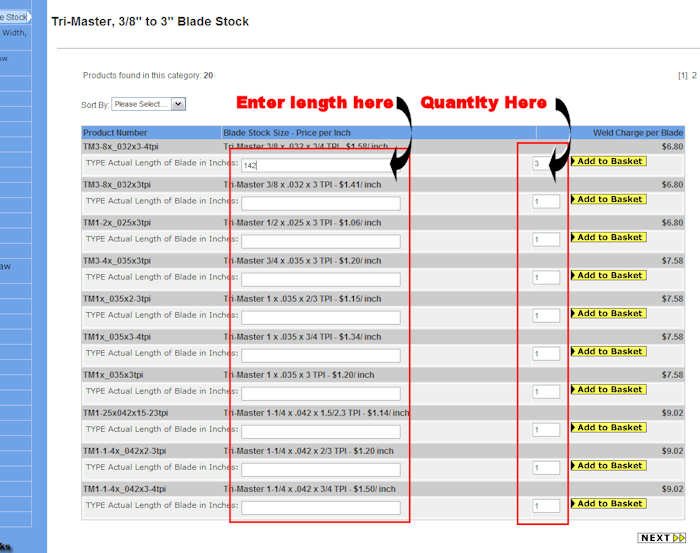 3. Click the "add to basket" button. You will not be finalizing the transaction so don't worry about this part. Do this for each type of blade you want.
4. When finished with your selections, click the basket icon at the top of the page

5. This will bring up your complete basket with totals. You will need to copy this data to your clipboard. To do so, place your cursor at the top left corner of the basket page. While holding the right button down, drag your mouse to the bottom right corner and release.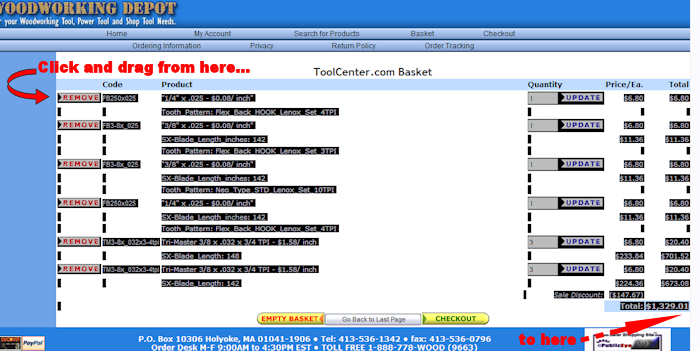 6.Now right click and choose "copy".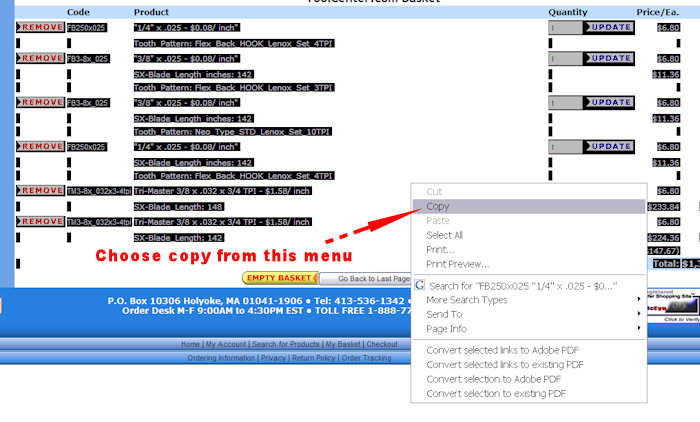 7. Come back to this thread and start a new reply. Right click again and choose "paste" from the menu.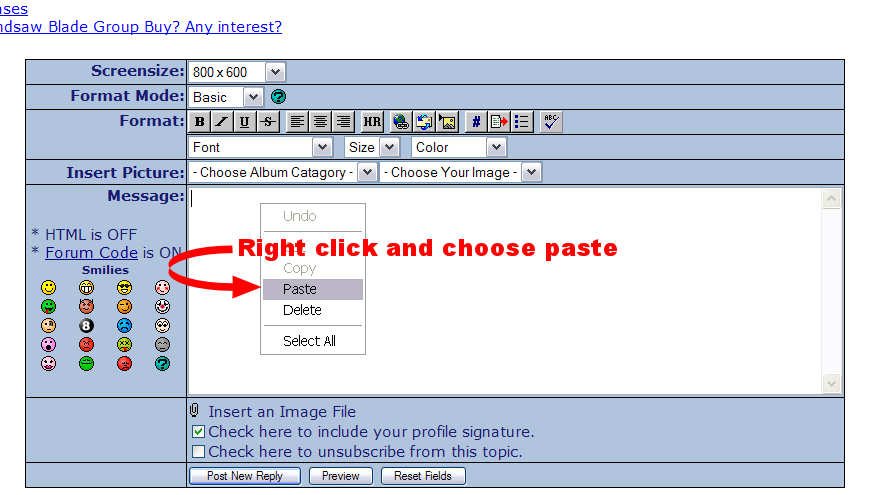 8. Now post your message.
I will collect the data from this thread and enter it into a spread sheet where I will then calculate the discount, Paypal fees, and shipping. I will then e-mail you with your total and what you ordered. It is up to you to verify that the information I reply to you with is correct. I will also send Paypal info at this time.
Last edited: