Joined

Feb 2, 2011
Messages

14,776
Location
Made these as gifts for a friend and his wife.
Kit is Exotic Blanks (prev. sold by Smitty's Pen Works) Le Roi Elegant V2 D37 with Plating TnGold/GunMetal
Dressed in Curly Camphor wood from Joe Schneider (wood128).
Finished with thin CA - 6 coats carefully sanded (240 grit up to 2000) then polished with Meguiars Oxidation Remover, then Novus 3, then Novus 2, and finally Meguiars Plastix.
Just a plug for the kit. . This is my first usage of this kit and I am very impressed. . It is a twist action similar to the Sierra twist, but the differences are a smaller diameter brass tube (0.372" diameter instead of 0.408" diameter) and a shorter brass tube (2.17" long instead of 2.21" long).
The smaller diameter brass tube leaves more wall thickness on the blank after turning which is a nice feature compared to the Sierra and similar kits that use the bigger, so-called 27/64", brass tubes.
I also like the finial twist on this Le Roi kit better than the body twist of the Sierra. . This may not seem like much but it results in a more solid feel to the pen because both ends of the blank firmly press into permanent metal ends.
The refill is replaced by unscrewing the complete nib section (TnGold and GunMetal). . You can also replace the refill by unscrewing the top friction-fit finial plus twist mechanism.
So I highly recommend this kit. . Not everyone likes my bulged style of turning but I actually prefer a little bulge to a straight-sided design.
I show all sides of the pen pair in the following 4 pictures. . Not the best of photography but ....
Thanks to Exotic Blanks for putting these kits on sale in early August at a very good price. . I am very happy with the resulting pens and I'll certainly be making lots more of them.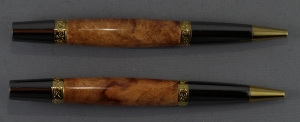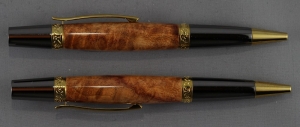 Last edited: