Joined

Aug 6, 2009
Messages

6,514
Location
G'day peoples,
Lifting large/heavy pieces by myself into my bandsaw table that was raised about 1' from the very beginning so that It would have a better working height has been proven the become a problem more and more as I age and strength is lacking so, I have lost many days of work from hurting my back lifting those heavy chunks of wood to be worked on the bandsaw so, a few weeks ago I decided to order a hoist winch of 125kg single line pull capacity and started to draw out a "L" shape metal frame made of galvanised 50mm heavy duty wall thickness, some cement for the bottom hinge footing and some sort of a top hinge to be attached to a wood post next to where is swing arm/frame will be installed.
My work-shed has a very low hoof so, the vertical pipe is only 190cm and the arm that extends about a bit shorter than that but with a 1.5 meters long extension pipe that fits snug inside the 50mm tube, that was required as the holding/mounting brackets of this hoist were made for a 40mm pipe reason the extension that will also be used to extend the hoist a little further if necessary, the pics below are what I endup with after I was done, shame that I can't weld s#!t it may hold OK but my welds look horrendous/ugly.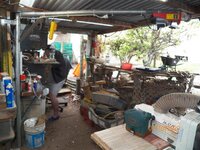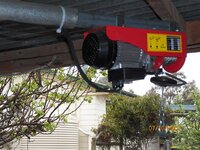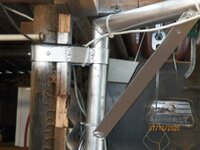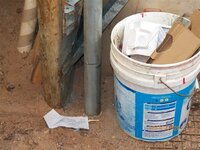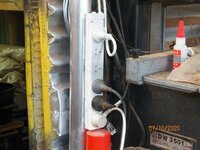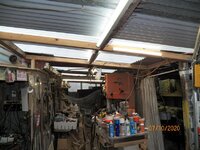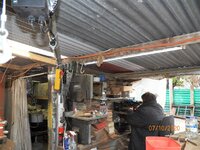 Today was the day I needed to test this swing hoist winch system as I had all those half slabs I have milled a few days ago and they needed to be taken to be bandsaw for ripping into all clean wood for this table frame I have to make to accommodate the cross-cut chopping tabletop I will be making for the Koi knives guys.
So the slabs were originally about 230 to 240mt I cut them in half to make easy to handle and I didn't need anything over 1 meter long, however, they were 2 man job to move them around but I'm on my own most of the time, particularly when I have heavy stuff to lift, the guy that gives me a hand seems to know when I have heavy stuff to handle so he doesn't show up so I have no other choice than setting up ways that allow me to be able to do these heavy lifting and the new hoist winch was going to be tested to its capacity of 125kg single rope but I can use a pulley and double that lifting capacity, I estimated that a few of the half slabs would weight a good 100 to 120kg.
So without further ado, here are the pics I took today of using my new hoist winch for the first time, multiple times. The last pics have the biggest and the heaviest half slabs, they are certainly a good chunk of wood.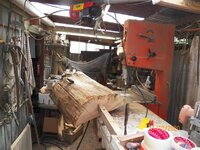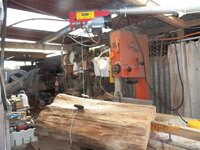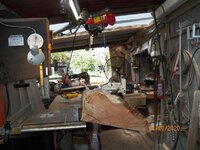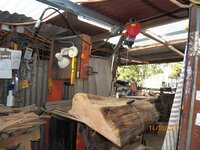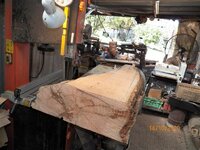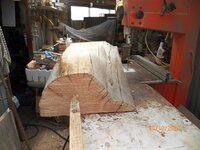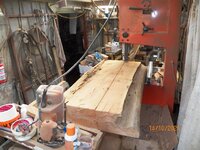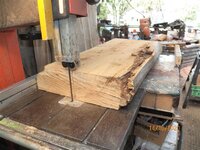 Cheers
George