Joined

Oct 4, 2018
Messages

142
Location
Hey All
In the past year I've found a few beautiful Burls in the Newfoundland woods. Today, I found a 20+ pound Birch Burl and after a cold ATV ride I got the beauty home.
In the past I've always sliced burls into 2.25" thick slices, let those dry to sub 9% and re-sawed them down to pen blanks. (I store the slices on a rack in my garage and 2-3 months later they are dried enough to re-saw into pen blanks.) I don't have access to a kiln, but this method seems to work well.
Does anyone else have any alternative ideas for drying a large Burl? One this big would take a lifetime to dry if I didn't slice it up.
Also, does it make a difference what direction you slice a round Burl? Seems to me either way produces nice results as the grain is all over the place.
Here is a pic of today's treasure. It seems like 2 burls grew into one.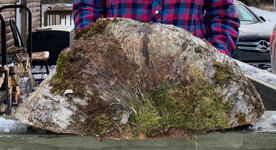 "Pen Turning on the Rock"