Joined

Oct 4, 2018
Messages

142
Location
Hey All
Thought I'd share how I get my whale bone for pen blanks. (I love working with antler and solid bone, but it is difficult to get sometimes.)
I was given a tip about a dead 70+ ft finnback whale in a remote beach in NL. After a 90 minute quad ride over some ancient frozen tractor roads, we found the beast partially frozen to the beach.
While his lower jaw bone was exposed, that isn't really usable for pen blanks as it is very thin with a lot of marrow. In my experience the only usable bones, (those without excess marrow), are the flank bones in the skull of older whales. Luckily the ocean had partially cleaned the skull and all we had to do was remove it from the spine.
30 minutes and a pair of 5000lb winches later and we have the skull removed. From there we use an electric chainsaw to cut the hard parts of the skull into 2" thick slabs. (Never use a gas chainsaw as the higher rpm's will burn the bone and make a smell that will literally knock you out.)
The smell is unbelievable but it makes for an amazing finished product.
I'll post pictures of the raw bone slabs in the coming weeks. I will leave the bone slabs in the cold air outside for a few weeks to dry and then place them in an industrial kiln for a few days. Then off to the Bandsaw to cut them into pen blanks.
Right now here are a few pictures of the harvesting process: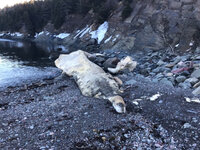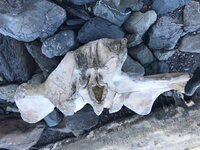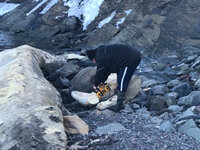 "Pen Turning on the Rock"
Last edited: