Joined

Jun 15, 2019
Messages

5
Location
Hi all,
I've been lurking for a while, and since I've just completed my first bespoke pen I figured it'd be time to say "hey y'all," and extend my thanks for the bits of advice I've picked up around here. I've been turning, mostly pens, since March of this year. It's been another effort to combat frustration and insomnia. Fortunately it's mostly working!
I'm not as good at this as I want to be yet. I'm facing a few challenges. I'd love some feedback and suggestions. Here's my latest work, a bespoke work with eggshell inlay. The section is a El Grande unit but all else is my own work.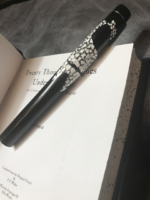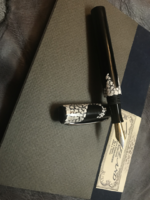 You'll likely notice there's some major issues in finish here, but this is my first attempt at the eggshell onlay and my adhesive choice was not great, yielded the dreaded soda water look between the eggshell pieces. Really, though, the biggest issue that I'm having is work-holding. I'm using a collet chuck with fractional inch colletts. I think that I really need to get metric so that there is better overlap in the holding range. I'm generally able to overcome this issue but I'm finding pretty consistently that if I have to re-chuck a piece (tennoning then finishing the back) it becomes out of round. I've even started by turning a dimple in both ends of my rounded and faced blanks with the hopes that the tail stock will help center the blank properly in the collett chuck, but that's only slightly successful.
Also I'm finding it very difficult to turn pieces together. For instance you can see here that my finial isn't quite right from the shaping. I just cant figure out how to turn them together and still have access to it's end: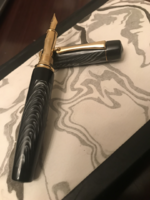 I like a smooth line with the cap and the body following one line, so it's necessary to turn the cap and body together. This is super risky though, so I'd love some advice on how you all achieve that. I'm also trying to figure out how to use something like jam chucks and keep the axis of the pen in line with the spindle, so far I've had no luck there.
Anyway, I really want to say Hi! and thanks for any feedback and advice.