I thought I'd post this pen to show the material rather than anything special about the pen construction. This is one of my favourite resins and, if I exclude wood, then it's in my top 5 of all time.
Some of you may be familiar with it. It's called Emerald Green Spaghetti (I know, me neither). It's an older blank and it's made by a process of lamination. This, combined with the fact that it comes already round at approx 16mm diameter, makes it quite tricky to work with as it can split easily. Especially the cap as there isn't much meat in the blank. I had a minor mishap when making this and had to change my usual process sequence to overcome it. I usually cut the rebate into the cap and then thread it but in this case the wall became too thin to take the force of the tap and it split a little. So on this occasion I cut the threads and then rebated the cap, which added a little extra work.
Anyway it's worth persevering with if you like this sort of thing as the results are really nice in my opinion. Then again I do have a thing for green pens.
The metal work is sterling apart from the clip which I bought and is chrome plated stainless.
Bock no6 nib fed by c/c.
Cap threads are 13mm triple lead (I rarely use anything else).
Cheers
Ash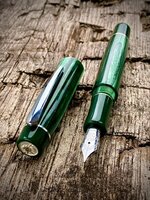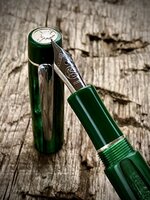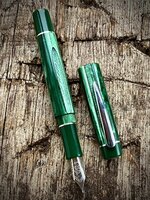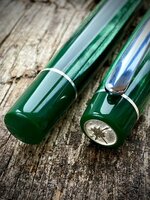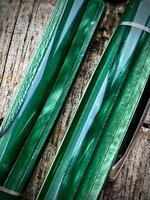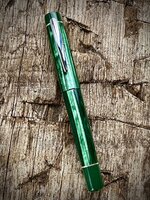 Last edited: