Joined

Aug 6, 2009
Messages

6,506
Location
Hi everyone,
Not that would be much a surprise to most of you but, this is going to be a long thread/story, be warned...!:biggrin:
There hasn't been much I have said or done here on IAP and at home, most of you may be aware that, I was unwell since the last week of November until just last week, I'm not yet 100% but, I'm doing the best I can...!
With that said, I haven't touched a chainsaw for some time and much less doing any hard work for some time so, last week I decided to visit the old local timber mill that, I have mentioned many times on IAP, as a place where I have scored some good pieces of wood.
A few years ago, old Bill (the mill owner) have passed on the business to his oldest son (Damien) and that was when I score most of the wood as the son needed some extra space that was full of Bill's junk that were treasures to me/us.
Old Bill suffer from Dementia, at 76 year of age, he can't remember much and he will forget you you are, a day or less after you spoke to him so, I have been very persistent but also very careful with what he sells to me or give it for free, such as some old logs of Macrocarpa, that are only good for firewood, I mean whatever is left from the rot of being in the weather for decades.
Anyway, I haven't been in the mill for about 6 months so, I wasn't aware that, Damien had closed the business some months ago and that, everything is going to be auctioned very soon. While I was surprised and sad that, we were going to lose another old business that, I have become very attached to, after all, I grow up in an identical timber mill and the old fellow become a sort of father figure to me.
Last week when I went there after such a long time, I spotted a huge Red Gum burl, right at the mill entrance,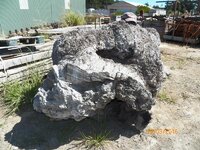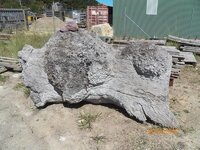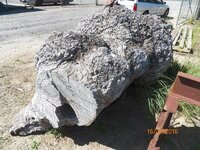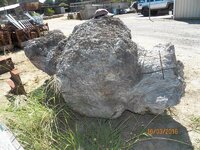 something that I never saw there before and that old Bill told me that, has been there for years and it was his. I new/know every inch of that mill and walked many times around, looking for something worth while to buy, Damien didn't wanted to have anything to do with the timbers stuff his father has collected for decades, the only thing the mill has ever produce is Pine trees slabs, pallets and other rough cut stuff so, he had no use for anything else in the yard.
I asked Bill what he wanted to do it it, he told me that, he would like to get a couple of good table tops but that, he had nothing now to cut it with so, I jumped to the opportunity and even though very weak and saw, I offered to use my 36" chainsaw mill to cut it if, I could keep a couple of small burls on one side of the log and any off-cuts, Bill said, yeap, that would be great, thanks.
Last Wednesday, I spoke to Bill and organised to be there the next day with my equipment and get the burl slice and the place cleaned up so, yesterday I went there with trailer and all the gear, please with the thought that I was going to have some very nice pieces of burl, much better (less cracked) than the one I have but, a little concerned with the hot sun and how long I would last handling a chainsaw that weight alone 28kg so, I took some pics of it before milled and went home
By 9:00am I was there with all the gear, Merissa had to take the dogs to the vet, to a town next door so, I took everything out of the vehicle, unhook the trailer next to the burl, and there she went, I would call her when was time for her to pick me up. I calculated that, it would take me all day to get the job done, there is, if I would last that long.
I walked to the main mill shed and old Bill hadn't arrived yet but Damien had opened the gates and he was also waiting for his dad to arrive as he needed to be elsewhere. Damien had no idea what I was there for, he saw me dropping my gear near that burl so, when I told him that, his father has asked me to slice a few table top's out of it, he looked at me with a very surprised look and said, "my dad doesn't own that log, someone dropped it in a few months ago (that explains why I never saw it there, before) to be slabbed but, it was never done so, it was better to leave it alone and that, he would call the owner to come and get it as is...!".
About 10:30am old Bill rocks-up, he had already forgotten that, we have arranged to start cutting the burl first thing in the morning so, I was disappointed but not totally surprised that old Bill didn't know what is his and what is not, he spend the best part of half a century working in that place that he built with his own hands so, in his mind, whatever is in that yard, is his.
After Damien told his father that, the burl/log wasn't his, he was very surprised but accepted what his soon was saying so, Bill and I we started to walk to here my gear was, I had my phone there so, I need to call Merissa to come and get me and the trailer/gear when, Damien drives pass and looking at both of us, he said, " Well, go ahead dad, just make sure you leave some good slices for the log's owner...!"
Well, that was music to my ears, I was pretty much ready to start so, Bill went to get the forklift because the log had to be rolled into the right position and I got measuring the first cut and see in my slabber frame was long enough which endup not being, even for the first cut so, I had to remove the big chain saw from the slabbing frame and started cleaning the burl from lots of sand it was stuck in it, and do it all free handed.
The plan was to cut 2 good slices from one side and then, another 2 slices from the other side, the rest would be mine, as a payment for all my time , petrol, oils, etc, right...????
Well, after spending about 5 hours struggling with the heavy chainsaw and in the hot sun, I was done and roasted, absolutely exhausted so, I called the wife to come and get me.
I had some problems with the chainsaw bar when I changed the chain to a sharp one, first stuffed it up in the first cut/slice, the bar needed some resurfacing, the sand in the bar groove, has forced the bar to create a burr on each side of the grove so, the new chain was getting jammed/to tight in the grove and it would not turn, that made me lose a good hour but, it became obvious that I underestimated the burl hardness and how much time was needed to get it all done so, day one, half done, as seen below.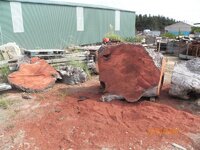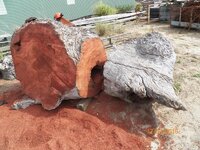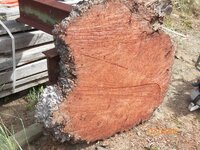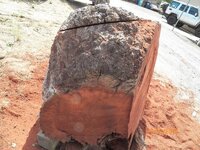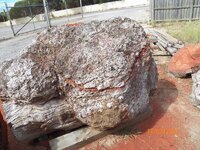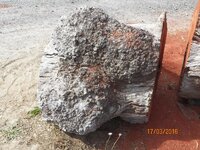 Now, it comes the "best" part;
This morning, 9:00 and we were at the gate, still closed and on the side of the gate, I could see a few blokes staring at us as we approached, they all work in the 2 sheds next to me mill, appart from a big guy that started to walk towards us. Was obvious that, Bill was late and Damien didn't open the gate earlier so, and as I get out of the vehicle, this fellow approach me and, with a very pissed off look, he asked, "are you the one cutting that burl...?" I said yes, he then replied even more furious, "I own that burl, who gave you permission to cut it...?".
I very quickly replied saying that, while the old fellow Bill had told me days prior that he owned the burl and that he wanted to get a few table tops out of it, and asking me if I could cut it for him, we had organize to start working on it yesterday and finish it today. I further more explained that, in the morning of the day before, Damien had told be that, someone else own the burl and that I was ready to pack and go when, he changed his mind and gave me the go ahead, as explained above.
This guy was furious, he told me that he dropped the burl in the yard so that Damien would use is Lucas mill chainsaw slabber to be cut in a certain way, something that I knew nothing about so, he told me to not touched it any further and that he was going to call Damien to sort it out with him.
So, and because the gate was still closed and the trailer was still inside, the rest of my gear was all in my vehicle and I wan't going to hang around with this fellow obviously mad as hell so I told him that, I was going to come back later to get my trailer and that, I wanted to confront Damien in his presence because, he was the one to give the go ahead and I wanted that, he would hear from Damien that, the only reason I touched that burl was because of him and not because of any other reason, after all, I was doing all that work only to take some small pieces and off-cuts, something that most people would dump or burn.
About a couple of hours later, I arrived to see, old Bill seated on some piled wood, Damien using the becko, loading all the burl into a truck that, the burl ower brought in to take it all away.
I hooked the trailer and walked to where they were all talking by then so, I told Damien that, I was put in a bad situation because of him, he made the wrong decision, not me, and I need the burl owner to hear Damien to confirm what he said the day before, and even though, his father Bill was there, I couldn't certainly count on him to remember any of that and confirm that I have been indeed authorized to slice it up.
Looking at the burl owner, and having him to acknowledge what had just been said, I couldn't be sure if he wanted to be made at me, Damien or Bill so, as I walk away, with him following me not far behind, I turned around and asked him, if we would let me have some off-cuts from what has been cut and only then, I had the answer to my question when he started to smoke from his ears and said, "no, you are not getting a F@$#% thing...!"
So, the moral of this story is, do not do or get anything more from that mill yard until Damien sells his stuff and take away what belongs to him, only then i can expect that, what will be left there, belongs to the old fellow and what he decides to do with it, is no one's business, don't you think..???
I had intended to make some nice burl blanks and open a special sale here on IAP, something that I haven't done for a long time so, my friends, I'm sorry to say that, we all lost, mostly me and quite honestly, I don't think that I would last a couple of hours today, my whole body is very saw...!:frown:
Cheers
George
Last edited: