Joined

Feb 2, 2011
Messages

15,126
Location
PSI has recently released some closed end kits so I decided to try the Majestic Jr. . I modified the hardware for the small top cap to allow a reduced size (height) and I managed to get the whole pen out of a single 6 1/4" blank.
The blank is Olivewood. . The overall length is 6.09" so not much wood was wasted.
As shown, the pen needs a final finish. . It has been assembled in such a way that it can be taken apart for this purpose, although I rather like the raw sanded wood as is. . I am still deciding whether I like the shape and length.
I might reduce the length of the lower barrel at the tapered end. And I might reduce the top cap height a little bit more above the clip ring.
I didn't follow the instructions to the letter, and I didn't use the Big Grabber that they recommend; I bought one but am now wondering why !!
I did all the turning between centers without bushings.
I miss the decorative Majestic style upper barrel top end !!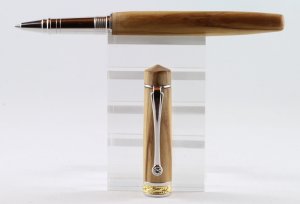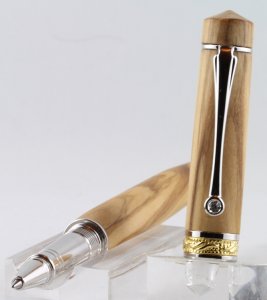 Last edited: