Joined

Sep 22, 2005
Messages

5,359
Location
This is the end of my collection. Whatever doesn't sell goes to a placed called Scrap where it will hopefully be re-purposed in someone's project. I will be putting a few tools up for sale late this week or early next week.
If you see something you like but don't like my price, you can make an offer.
As with the last listing, if you want a specific blank, specific the photo name and the number. I number things from left to right starting with one(1).
Batch 21
Mescal Bean burl, from MesquiteMan, Thuya burl, two brown Mallee burl, Sumac, Bloodwood, X-cut Padauk, Katalox, figured Mango, X-cut Pecan root, spalted Maple, Lacey Sheoak. Burls $2.50 each, others $2.00 each
ALL SOLD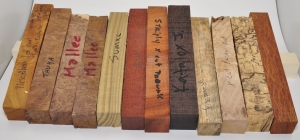 View in Gallery
Batch 22
Redwood Lace burl, Zebrawood, Bubinga, Afzelia Lay, Narra, two Buckeye burl, unknown burl(soft), spalted Maple, two Box Elder burl, unknown(nice grain). Burls $2.50 each, others $2.00 each
1 SOLD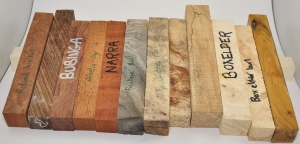 View in Gallery
Batch 23
Anthony at Penworks introduced us to this stuff. This is all Lucite from Pipe Makers Emporium. It doesn't appear that they sell this anymore. Done correctly(polishing and painting the hole after drilling) it makes stunning pens. The sizes, left to right are: 4.5", 7.5", 8.75", 15", 6.25", 9.5", 6.25", 5.75", 7.75" $0.50 per inch rounded down
6,7,8,9 are SOLD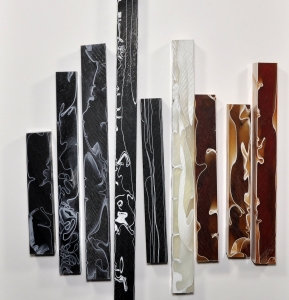 View in Gallery
Batch 24
A mix of old Italian material, PSI, Ebonite and alternative ivory. The first two are the old Italian material, makes beautiful pens, 14" $7.00 and 10.25", $5.00, next are three PSI items which are not in their current catalog, 9.5", 11" and 14", $8.50 total, two more old Italian material, 3.5" each, $1.75 each, greenish Ebonite, 13.5" $10, brownish Ebonite, 6" $4.50, and alternative ivory, 7.75", $2.00.
1,2,3,4,5,6,7,8 are SOLD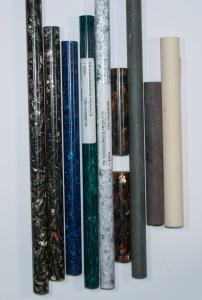 View in Gallery
Batch 25
Unknown burl(some inclusions), Cypress knee, wormy American Chestnut, Black & White Ebony, White Ash, Sycamore, spalted Maple burl, Ironwood, Imbuya. $2.00 each
4,6,8 SOLD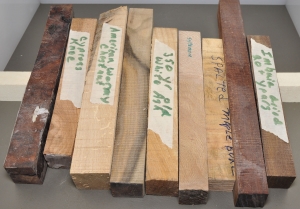 View in Gallery
Batch 26
This stuff was my all time favorite "plastic." It was easy to turn and took a beautiful polish. I made and sold quite a few full size closed end pens from this stuff. It came from a place called Pedigree Woods in the SLC area, which is now out of business. They told me the material was made in Italy. $3.00 each.
ALL SOLD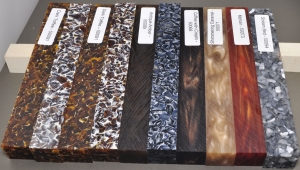 View in Gallery
Batch 27
Miscellaneous plastics, except the round one near the center is Ebonite. $1.50 each, Ebonite is $3.00.
ALL SOLD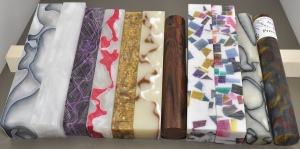 View in Gallery
Batch 28
Two stabilized Box Elder burls, blank made by Ron McIntyre, three shredded currency, four plastic blanks made by Dawn Kizer(PR Princess) I think. First three blanks $3.00 each, others $2.00 each.
ALL SOLD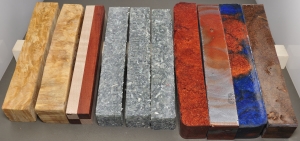 View in Gallery
Batch 29
Very miscellaneous. Black/orange resin(big), red Bakelite, green Bakelite, two red/black PSI blanks, Kallenshan zigzag Sierra blank(not glued), two PCB Sierra blanks, black/orange blank, black/purple blank. Bakelite blanks are $4 each, Zigzag and PCB blanks are $8, all others $2.00.
1,2,3,4,5,9,10 SOLD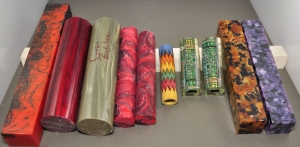 View in Gallery
Last edited: