Joined

Dec 28, 2009
Messages

4,623
Location
Hey, I just wanted to say thanks for everyone who attended. And I thought I'd post a picture of the casts that were made in the demo.
Here they are, and I promised them to Joe's son. The blanks are his schools colors. One is slightly turned to get an idea of what's inside.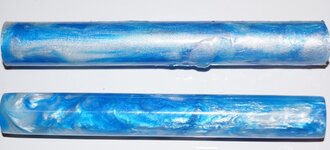 The other is a picture of 2 pens I've made so far for the "pens for the Troops". Boy I like that red cedar. And a question for Scott. What's the other wood? It has some really cool red in some of the rings.
BYW, when did we say these needed to be finished?
Oh, and that smudge on the red cedar is just some lint. It isn't on the actual pen. I really need to wipe off everything before taking pictures.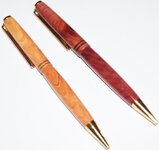 Anyway, for those that couldn't be there, the next meeting is May 4th. And we're meeting at John Pierce's shop. His shop is similar to mine in that his family keeps wanting to park their cars in there.
Last edited: