Joined

Aug 6, 2009
Messages

5,923
Location
G'day everybody,
I've got a selection of pen blanks that I acquired recently (
story here
) and that I'm offering to the IAP members at the lowest cost possible.
Apart from trying to recover my investment, I'm trying to increase the number of parcels sent overseas which has a annual total value (shipping only) minimal target of AU$5,000 as per my contract with Australia Post, and up for renewal in September 2017, this is a condition for renewal and I haven't processed as many overseas parcels as normal at this time of the year so, I'm asking for your collaboration in creating orders if only to recover costs, without these discounted rates for all International destinations (only), ordering anything from me will cost 40% more in shipping.
OK so, now for the blanks on sale, there are 6 wood species and 7 different blanks and a total of 14 blanks on each pack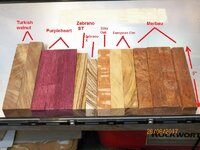 *- Purple Heart - straight cut
*- Turkish Walnut (so they say?) - straight cut 6" long
*- European Elm (I never seen) - angled cut
*- Silky Oak (Lauro Faia Stretched Figure) - straight cut
*- Merbau - straight cut
*- Zebrano - straight and cross cuts
The Zebrano are the smallest diameter blanks, as the piece I cut them from was only 32mm thick.
All packs are the same except packs 16 and 17 that have a couple blanks different than the rest (same total quantity)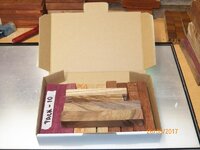 Each pack (from 1 to 17) is US$30.00 (AU$39.00) INCLUDING shipping
Locations outside USA, Canada and UK may require a different shipping option than the "Economy" which has no insurance.

For Australian residents each pack will cost AU$32.00
Please, select your pack number and post it here OR by PM
Paypal payments to,
nyodine@yahoo.com.au
PS: attached are also pics of the samples I made, only PurpleHeart was not made as everyone know how it looks like when finished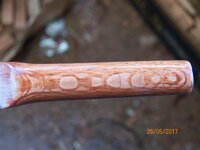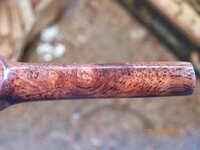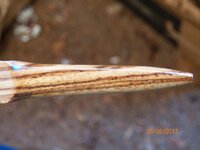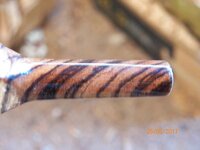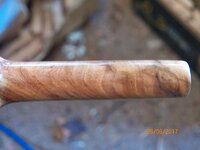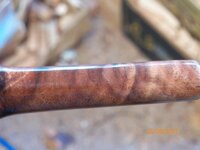 Thank you,
Cheers
George
Last edited: