Joined

Jul 18, 2006
Messages

3,020
Location
The topic of what equipment is needed for pen photography comes up from time-to-time, and I frequently see people recommending a macro lens. Well, do you really need a macro lens to take a good picture of a pen?
First of all, let's back up and discuss what "macro photography" actually is. Technically, a macro photograph is one where the image on the film (or sensor) is at least life-size, and up to 10 times larger than life. That is, the lens is produces 1x to 10x magnification. Greater magnification is termed "micro photography" (as in using a microscope). The range from 1/10x to 1x is called "close-up", and less than 1/10x is just regular photography.
A "macro lens" is one that can focus close enough so that (given the focal length) it can produce an image that is as large, or larger than life. Now, I'm not talking about enlargements, but about the size of the image at the focal plane. For APS-C cameras (with approximately a 25mm sensor), that means that a US quarter would fill the frame.
Unfortunately, people have used the term "macro" so loosely, that it hardly means much more than "focuses pretty close". Even the camera manufacturers are to blame. Nikon, for example, calls their macro lenses "micro".
But let's get back to the question - "is a macro lens necessary for pen photography?". I'm going to be contrary and say "no". I don't have any trouble filling the frame with a non-macro lens. Using an APS-C format camera and a 28-135mm zoom lens, I can shoot comfortably from about two feet away. That yields a perspective similar to holding a pen at arms length.
Unless you want to take extreme close-up pictures, you don't need a macro lens. I don't even own a macro lens (at the moment), but I was able to take this picture using a zoom lens set to 70mm and an extention tube. It is on the verge of 1:1 magnification.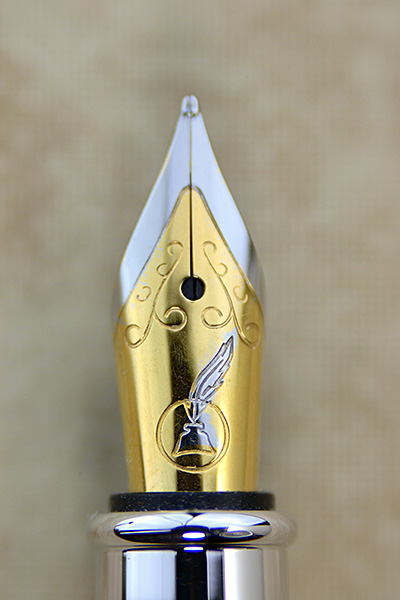 I did not crop the photo at all, so I could print an 11"x17" enlargement from the full-resolution version. If that's what you want to do, then I'd recommend a macro lens. If you just want to take regular pen photos, then one isn't necessary.
Sincerely,
Eric