Joined

Jul 1, 2014
Messages

747
Location
The last pen I turned was December 2017. I'd decided I was done with kit pens - made a few hundred and was just burnt out on them. Still have at least a hundred sitting in trays, waiting for new homes. But, even with that, I still wanted to make the step into custom pens. I like the thought of the blank canvas and the world of design possibilities it opens up when you can completely customize every aspect. Bought the tooling a while ago and then it sat. Until last week. Finished my first custom the other night. Have a couple more already in progress.
Material is black ebonite. The section and the inlaid accents on each end are from an acrylic acetate blank. Nib is a JoWo #6 in extra fine. Cap to body threads are 13mm triple start. Clip was leftover from an Atrax kit that I had made into a closed end pen. I am overall very pleased with how this one turned out, especially for my first custom.
My biggest mistake was, when I was initially fitting the clip before turning the cap section, I accidentally turned it down too much, which would have left the ring on the clip a little proud around the diameter of the cap. I decided to shape it more and make the ring stand even more proud to make it a design feature instead.
But, I think I did pretty well, considering I got through this without having to scrap any pieces. The other big mistake I made (turned a tenon to a too small of a diameter) I can save and make a smaller pen from with a 12mm cap to body thread, so I didn't count that as a loss.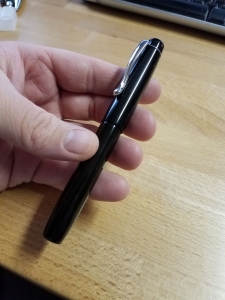 View in Gallery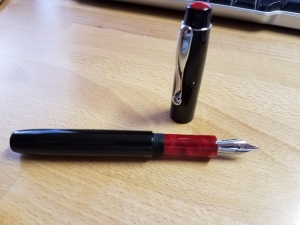 View in Gallery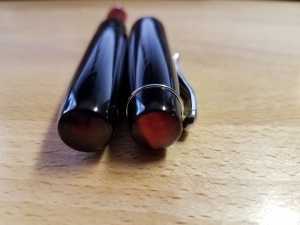 View in Gallery