Joined

Jan 24, 2005
Messages

6,506
Location
I've reorganized this first post to make it easier for people to track any changes. All updates, other than to individual orders or to statistics, will be reflected at the top of this post.
---------------------------------------
7/26/06 - 11:45 PM- Update
---------------------------------------
OK, I have packed and taken care of the postage for all of the orders except those for:
JohnCrane
Comben001
MJNicholson
Monty
NCSeeker
RGundersen
TeaClipper
Tone
The boxes are ready to go, and I'll be dropping them off at the main regional post office tomorrow morning on my way to work. This will probably be my last update to the thread since there are only a few people left, and I can E-mail each of you directly when I know more about the gold Emperor rollerballs that are the reason for the hold-up. If any of you want me to ship what I have, I'll be glad to do that, and then we can work out the shipping for the Emperors later.
Since this is my last update, I want to thank everyone for their patience while we dealt with the few small hiccoughs along the way. I wish everyone the best of luck with their pens, and I look forward to seeing LOTS of pictures over the coming weeks and months! And to those who sell their pens, may they all sell for more than you were asking!
---------------------------------------
7/25/06 - 1:15 AM- Update
---------------------------------------
I received the much anticipated package from CSUSA today, and was able to pack most of the remaining orders. For those who ordered Emperor Gold RB's, they're still on backorder. I have an E-mail in to CSUSA to request a status update, and will fill you in once I hear more. I'm guessing the stuff is still stuck in Customs, though.
For the rest of you, I will start the shipping process tomorrow night, but given the number of boxes that have to go out, it may take me a few nights to get everything done. By way of an update, though, for those who I contacted and mentioned that I might have to hit you up for additional shipping charges, I was able to repack everything without having to worry about the increased shipping, so at least we won't have to wait for a second round of PayPal payments.
---------------------------------------
7/19/06 - 12:30AM- Box Pix
---------------------------------------
As promised, below are three pictures of the boxes. The pen in the picture is my full-size Emperor pen, for perspective. If you aren't sure how big an Emperor is, check out this thread:
http://www.penturners.org/forum/topic.asp?TOPIC_ID=15198
The two boxes: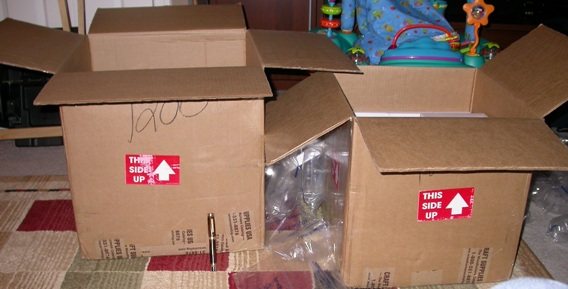 The bigger box: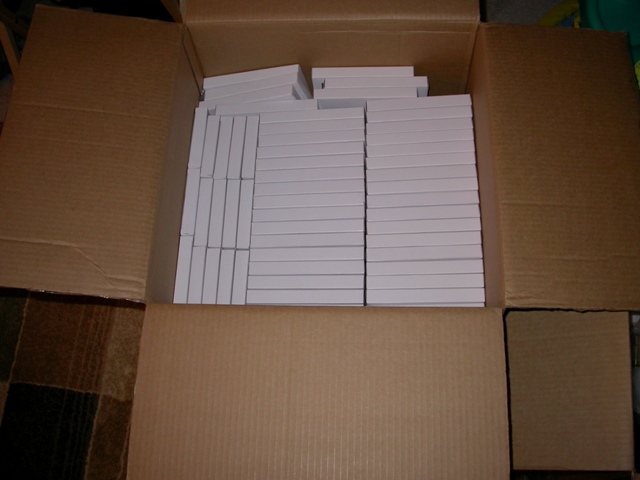 The smaller box: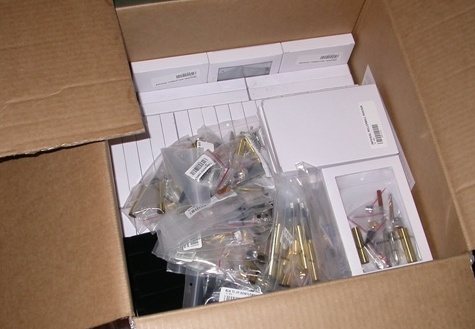 ---------------------------------------
7/17/06 - 9:30PM- Packing Update
---------------------------------------
OK, I've picked and packed everyone's order except for the following participants:
Monty
TeaClipper
NCSeeker
MJNicholson
JohnCrane
Comben001
RGundersen
GeoInWinnipeg
Tone
I will contact each of you individually as well, but in case you miss my E-mail, I need to know whether you want the portion of your order that I have in stock shipped to you now, or whether you want to wait until the order is complete. According to CSUSA, the kits that are on backorder (Gold Emperor Rollerballs) are stuck in customs in Salt Lake City, and they don't know when they'll be released (CSUSA thought it would be last Friday, but as of about 2:30 PM Eastern today, they swere still in customs - though it could literally be any day). I believe the Black Ti RB Jr. Emperors are on their way as of this afternoon/evening. I got a shipping notice from CSUSA,
and UPS says the package will arrive next Monday (July 24)
.
---------------------------------------
7/17/06 - 2:50PM- Problem Update
---------------------------------------
Just spoke with CSUSA. The replacement Jr. Emperors will be going out today via UPS, which means I MIGHT have them by Friday. When I get home tonight, I will update this thread to indicate those whose orders still need to be filled. For those people with only a partially-fillable order, if you want me to ship the partial order, I'll be glad to do that (I only have limited space in my house!) and we can take care of the shipping for the 2nd order later.
---------------------------------------
7/17/06 - 12:45AM- Kits are In, but Problems
---------------------------------------
The 90lbs of kits arrived at my office Friday afternoon. I had some "issues" getting them home, as the two boxes didn't want to fit well in my car! I have pics of the boxes, and I'll try to post them tomorrow night. We ordered a total of 290 kits, and I spent Friday night cross-referencing the packing/order list with my spreadsheet to confirm I ordered everything properly, and then sorting the kits so I could get a jump-start on packing everything. Unfortunately, about 30 of the kits were not labeled at all. I sorted the rest by label, and then hand-sorted the unlabeled boxes. When I cross-referenced my sort against the order, I noticed that I had more of some kits than I was supposed to, and fewer of others. As I looked through the kits, I realized that some that had labels weren't labeled properly. This necessitated visually inspecting each kit to ensure that everythig was sorted properly. When I finished that, I realized that I was still short six Jr. Emperor Ti Rollerballs, and that I had six too many Jr. Emperor Gold Rollerballs. In going through the stacks again, the Jr. Emperor Gold Rollerballs had been incorrectly labeled as Jr. Emperor Ti's, hence the problem when the order was picked by CSUSA. It took me until almost 3:00AM on Saturday to figure all of this out - I've E-mailed CSUSA (their cust svc. number only works during the week), and am awaiting a response.
As I went through the packing list, I also learned that the Emperor Gold RB's are on back-order. I believe those are to be shipping some time this week, but I'm waiting on a response to my E-mail before I can confirm this.
When I started filling the orders, I weeded out everyone who ordered the Emperor Back Ti's, and was thus able to pack most of the domestic orders despite the mix-up with the Jr. Emperors (I think there are twelve people total for whom I am unable to pack their orders). Basically, I still need to pack the international orders and a few others and hope to be able to turn to those very soon. I do not have a postal scale at home, and thus have not been able to determine the final weight for each of the international orders. As a result, I don't yet know what the shipping costs will be. I hope to be able to get the shipping cost stuff figured out Tuesday morning, and will contact each of the international buyers when that's done. For the orders that I've already picked and packed, I need to still put them in the USPS flat-rate envelopes, and print off the shipping labels. I hope to be able to do that tomorrow night. I appologize for the delay - I had some personal issues this weekend that slowed things down.
With respect to packing of the kits, unfortunately, only two of the white boxes in which the kits are shipped will fit in either the small or large VCR-size boxes from the USPS (NOTE to CSUSA - if you make the boxes about 3/4" shorter, they'll fit nicely!!!). As a result, if you ordered more than four or six kits, I HAD to pack them all inside the VCR box without any of the white boxes. If you ordered four to six kits, I combined the kits into the white boxes, in an effort to further protect the kits - eight kits fit nicely into a small VCR box without TOO much room for the kits to move around and get scratched (and not much more room than when packed in the white boxes anyway), but less than eight just moved around WAY too much, and the white boxes afforded extra protection.
I'll update again when I know more.
---------------------------------------
7/7/06 - 10:15PM - Another Order Update
---------------------------------------
OK, now I'm REALLY impressed. When I got home tonight, I was trying to be cautious, and decided to call them to see if I could get an E-mail copy of the order, and to find out more about the timing of the order. Well, I got Michele again. She said she couldn't E-mail me an order summary like we get when we order from them online, but she offered to print it, scan it, and E-mail me the scanned copy. As we were talking, I got an E-mail from CSUSA (without Michele's knowledge) - they had pulled and packed all of the non-backordered kits, and the order shipped TODAY! Since the order is already on its way, I didn't see the point in making Michele jump through all the printing, scanning, and E-mailing hoops - I'll just wait 'till the order arrives. According to UPS, the order weighs over 85 lbs, and will be delivered by July 14. So, with any luck, I'll be able to start shipping the kits out July 17.
---------------------------------------
7/7/06 - 4:15PM - Order Update
---------------------------------------
OK, I placed the order! Amazingly (considering that the order contained a total of 291 kits!), the only kits in the group buy that are on back order are the Rhodium Emperors, and those should be back in stock next week. The total cost was $9912.74.
I also want to take a moment and thank Nils and the others at CSUSA - they are GREAT. I almost had a heart attack last night - I was placing the order online, and the prices for the Jr. Emperors were about $5 more per kit than I had in my spreadsheet. That may not sound like much, but we're ordering a total of 109 Jr. Emperors, and I really don't have an extra $550 sitting around! So, I E-mailed Nils last night (at about 1:00 AM Eastern), and he actually replied by 10:00 AM Eastern and confirmed that the prices in my spreadsheet were correct.
As one who likes to sleep in as often as possible, I was really impressed that someone in Utah would be responding to E-mails that early in the morning!
Nils also suggested calling in the order, and I have to say, I'm glad I took his advice. I spoke with Michele, and she was awesome! We went through everything in a very efficient manner, and then she confirmed everything for me, including advising about the back-orders. I gotta hand it to CSUSA - they really are great to deal with.
So, I want to reiterate my big thank you to everyone who has participated in this group buy, and add a BIG thank you to Craft Supplies USA for making the ordering much less painful than I expected!
---------------------------------------
7/6/06 - 4:25PM - Payment Update
---------------------------------------
Hurray! The last payment cleared PayPal today, so now it's just a matter of the money hitting my bank account. I'll see whether I can place the order later tonight or tomorrow.
---------------------------------------
7/6/06 - 9:45AM - Update
---------------------------------------
I have either received payment or received an E-mail canceling the order from all participants. However, a few people paid using PayPal's "E-check" rather than using a standard PayPal payment. The E-checks take 4-6 days to clear and for the funds to appear in my PayPal account. Thankfully, the last one is supposed to clear today. Once that happens, I just need to transfer the funds from PayPal to my bank account, then I'll be able to make the order. So, at this point, I should be able to place the order by this Saturday. Sorry it's taking longer than planned - I hadn't anticipated the E-checks!
---------------------------------------
6/30/06 - 11:30AM - Payment Status
---------------------------------------
I hate to leave anyone out, but 11:59 PM on June 29th was the cut-off for receipt of payments. There are still two or three people from whom payment has not been received, and I'm going to have to place the order without them. I have to transfer the funds from PayPal to my bank account so I can place the order (CSUSA doesn't accept PayPal payments), and then I'll be placing the order. With any luck, the money should be in my account tomorrow (Saturday) or Monday. I'll let everyone know once the order has been placed.
I want to send a
BIG
thank you to everyone who has participated! Given the number of kits, the number of participants, and the amount of money involved, this hasn't been TOO bad. Thanks everybody!
---------------------------------------
6/27/06 - 11:55PM - Payment Stats and other info
---------------------------------------
I just re-sent draft invoices to about ten people from whom I still need their PayPal E-mail address. If you HAVE received your draft invoice, please review it and approve it ASAP and I'll send you a formal PayPal invoice. The PayPal invoice doesn't have to be paid until
June 29, 2006
, but I'd like to at least get the official PayPal invoices out to everyone by Wednesday at the latest.
Of the 31 people who have replied to the preliminary invoices, 27 have paid, and the other four PayPal invoices went out only a few minutes ago. We so far have a total of 147 kits for which payment has been received, thus even if everyone else backs out, the prices will still be in effect for those participating. I've applied a bold font to the participants listed at the bottom of this post who have paid.
---------------------------------------
6/25/06 - 1:20AM - Preliminary Invoices Sent
---------------------------------------
I have now successfully sent preliminary invoices to everyone. If you didn't get yours, please E-mail me or post here and we'll work on getting it out to you.
---------------------------------------
6/24/06 - 12:30AM - CLOSED
---------------------------------------
OK gang, this group buy is CLOSED!!! Thank you to all who are participating. I will be sending out invoices over the next few days.
Remember, payment MUST be received by 11:59PM, June 29, 2006 for your order to be included in the group buy.
---------------------------------------
6/20/06 - 9:30AM - International Orders
---------------------------------------
I've been asked about international orders. I looked at the USPS (U.S. Postal Service) web site, and there are two global flat-rate envelopes. I'll have to see whether those flat rate envelopes are big enough to hold the "VCR" size boxes we ususally use here for domestic shipping. if not, I'll have to go with weight-based shipping, and obviously the postage will vary based on the number of kits ordered and the specific kits. This web site
http://pe.usps.gov/text/imm/immc2_016.html#gOdDw174wats
gives you an idea of the costs. Regardless of whether we go flat-rate or weight-based for the shipping, you'll have to add in the fees PayPal charges me to process your payment, too. Given all this uncertainty, and the fact that I probably won't get over to the post office to look at the global envelopes before this closes on Friday, I suggest that, if any international members want to participate, we plan on doing a two-tier payment program. First payment will be for the kits, and the second will be for shipping (and insurance, which I'm going to require for international orders). We'll hold off on you sending me payment for shipping until after I have all the kits and have a better idea of how to package them to get them to you.
As long as you're OK with 1) taking longer for me to get around to shipping the kits to you (getting to the post office isn't always easy for me); 2) paying for insurance; 3) having to make two separate payments, one for the kits and one for shipping; and 4) waiting 'till all the payments clear before I ship, then I'm OK with taking international orders.
---------------------------------------
6/17/06 - 11:35PM - Closing time reminder
---------------------------------------
OK gang, just a reminder...this is gonna close at 11:59 PM on 6/23/06 Eastern according to the IAP server's clock. Any orders placed after that time will not be processed, but you're welcome to place new orders or amend/cancel current orders up 'till then. I'll start sending out invoices on either 6/24 or 6/25. I must receive your payment by noon Eastern on 6/30/06 or your order will not be included.
---------------------------------------
6/17/06 - 11:35PM - Insurance for domestic shipping
---------------------------------------
Someone asked about insurance for the shipments. I've looked into it, and it breaks down like this based on the amount of insurance you want:
Code:
Insured Value:  Insurance cost (including PayPal fees):
$500            $6.70
$400            $5.60
$300            $4.55
$200            $3.50
$100            $2.40
NOTE
that $500 is the maximum value at which insurance is available from the USPS. Any orders over $500 for which insurance is purchased will be divided into multiple shipments to allow the order to be properly insured.
If you want insurance, please let me know (post here or send me a PM) so I can include it in your total. ABSENT PAYMENT OF INSURANCE BY YOU, YOUR PACKAGE WILL BE SHIPPED UNINSURED. THE USPS does a good job, but does occasionally lose stuff, and by participating in the group buy you are agreeing to accept the risk of loss if you choose not to purchase insurance. If anyone doesn't want to participate under these conditions, please let me know and I'll gladly cancel your order with no hard feelings.
---------------------------------------
6/28/06 - 11:45 PM - statistics
---------------------------------------
I put the info here into a spreadsheet and came up with some interesting statistics that I thought I'd share:
Number of Participants - 43
Number of kits ordered - 267
Average number of kits per person - 6.21
Total retail value of order - $12,986.23
Total cost of order with discount (incl. PayPal) - $10209.12
Total Savings - $2777.81
Average savings per kit - $10.40
Average kit price (based on order) - $38.41
Biggest savings per kit - $15.35 (Lotus gold FP)
Smallest savings per kit - $7.59 (Jr. Emperor Ti RB)
Top 5 most popular kits:
5) Lotus Gold Rollerball (21)
4) Imperial Gold Rollerball (28)
3) Imperial Black Ti Rollerball (30)
2) Jr Emperor Black Ti Rollerball (33)
1) Jr Emperor Gold Rollerball (47)
---------------------------------------
5/22/06 - 3:15PM - Updated info about the group buy
---------------------------------------
We've easily hit the 100 pen mark, so it looks like we'll be going forward with the group buy. I have the pricing set out below, including a corrected bushing price. As I mentioned before, the only question mark I have is with respect to shipping. I think all of the orders so far should fit in a USPS priority mail VCR-tape box inside a flat-rate envelope, if I take them out of any boxes in which they are shipped. As a result, I'll keep the shipping costs at $4.60 per order. If an individual order is too big to fit, then I'll contact the indivdual buyer and request the additional payment.
If you would prefer that your kits be shipped using the larger flat-rate box, I'll be happy to do that. The cost for shipping via the larger flat-rate box will be $9.20.
If anyone is anxious to pay me, you're welcome to do so at any point - just send me an E-mail with your PayPal address and I'll send you an invoice. However, I personally plan on budgeting this purchase over a few pay periods, and I don't mind if you want to wait until closer to the end to send payment. Also, you can amend your order at any time up until I close the group buy; I just hope that most of the amendments will be to increase, rather than decrease, the number of kits ordered so we don't fall below 100. Once the group buy closes, which is currently pegged for June 23, 2006, I'll send PayPal invoices to everyone with a total amount due.
Payment MUST be received NO LATER than 11:59 PM Eastern time on June 29, 2006
so I can place the order on/about July 1, 2006. Any payments received after that time will be returned. Just to be clear, any orders for which payment is not received by 11:59 PM on June 29 will be dropped from the final order with Craft Supplies USA.
Sorry to sound so strict - I haven't had any problems in the past and don't anticipate any this time either, but thought I'd play it safe.
Thank you to all who are participating!
---------------------------------------
5/19/06 - 1:29PM - Costs
---------------------------------------
Well, it looks like we'll be able to at least hit the 100 pen mark. I noticed on the CSUSA web site that, unlike the other pen kits, the Emperor doesn't have the multiple kit discount listed at the bottom of the page. I just called them and confirmed that it's only the limited edition kits for which they are not offering the discounted prices.
With that in mind, it looks like, inclusive of PayPal fees but exclusive of shipping charges, the pricing will be as follows:
Code:
        25% off
Std   (inc. PayPal)
53.99   $42.07 - Emperor - Gold FP
47.99   $37.44 - Emperor - Gold RB
44.99   $35.12 - Emperor - Ti FP
37.99   $29.72 - Emperor - Ti RB

50.99   $39.75 - Jr. Emperor - Gold FP
44.99   $35.12 - Jr. Emperor - Gold RB
41.99   $32.81 - Jr. Emperor - Ti FP
34.99   $27.40 - Jr. Emperor - Ti RB

68.99   $53.64 - Lotus - Gold FP
59.99   $46.70 - Lotus - Gold RB
56.99   $44.38 - Lotus - Ti FP
48.99   $38.21 - Lotus - Ti RB

61.99   $48.24 - Imperial - Gold FP
49.99   $38.98 - Imperial - Gold RB
51.99   $40.52 - Imperial - Ti FP
41.99   $32.81 - Imperial - Ti RB

Bushings - $4.15 per set (including PayPal fees - with the purchase of at least one kit)
I'm not sure how the new kits will be packaged, and thus can't tell yet what the final shipping costs will be because I don't know how many kits will fit in a flat-rate envelope or small box. I'm guessing that most of the orders so far will probably fit in a USPS VCR tape box, if I take the kits out of their boxes (assuming they're in boxes). I'll try to get an answer on this soon, but basically the shipping charges will be somewhere between $4.60 and $9.25 (including PayPal fees) depending on the number of kits you ordered.
Hopefully this info will help any of you who are undecided. It looks like we'll be able to save between $9 and $15 per kit, which isn't bad.
Oh, one final note...
From what I can see in the pictures, it looks like CSUSA is continuing with their tradition of making the nib/metal part of the rollerball and fountain pen pieces interchangable. For those looking to keep their options open while keeping costs down, here's a simple trick: order one gold rollerball and one titanium fountain pen from the same kit (if the ends are interchangeable between kits, then you could get off even cheaper, too, but I don't know whether that's possible). If you have someone who wants a gold fountain pen, you can always switch the nib/metal parts on the kits.
---------------------------------
Original Posting: (Including orders)
---------------------------------
I was thinking of running a group buy on the three new Craft Supplies USA kits, and the Emperor. If you've been hiding under a rock, you can see pictures of the kits here:
http://www.penturners.org/forum/topic.asp?TOPIC_ID=14912
Ordinarily, I'm not a huge fan of group buys because our vendors give us nice price breaks for ordering only a handful of kits and the difference between the 3 or 5 kit price and the 100 kit price on the number of kits I'd order isn't enough to make it worth doing a group buy. However, at the price of these kits, there's enough of a price difference to make it worthwhile.
I'm limiting this to ONLY the Emperor, Jr. Emperor, Lotus, and Imperial pens, and their related bushings. No drill bits, no replacement tubes, nor anything else.
PLEASE NOTE - Neither CSUSA nor I know when the kits will actually be in. As has been discussed ad nauseum in the past here, there are issues with manufacture and importation of the kits that cause delays that can't really be anticipated. CSUSA is currently estimating an early-July arrival, so my plan is to keep this thread open for a week or so to see whether there's sufficient interest to at least order 100 kits in total. If not, then I'll drop this. If there is enough interest, then I'll open a new thread with pricing and start taking orders. I'll close the new thread in next-to-last week of June and give anyone who hasn't already done so one week from then to make payment. I'll place the order with CSUSA in early July, and will let y'all know as soon as it ships.
If you're interested in participating in this group buy, please let me know in which kits and what quantities you'd be interested.
Orders will be listed below using the following format:
Listed as Emperor Gold FP/Emperor Gold RB/Emperor Ti FP/Emperor Ti RB/Emperor Bushings/|/Jr. Emperor Gold FP/Jr. Emperor Gold RB/Jr. Emperor Ti FP/ Jr. Emperor Ti RB/Jr. Emperor Bushings/|/Lotus Gold FP/Lotus Gold RB/Lotus Ti FP/Lotus Ti RB/Lotus Bushings/|/Imperial Gold FP/Imperial Gold RB/Imperial Ti FP/Imperial Ti RB/Imperial Bushings
NOTE that although I've listed them separately, the Imperial bushings are the same as the Lotus bushings. I listed them twice just to make it easier for people.
Current Tallies:
(thanks for the format suggestion Dario)
TALLIES REMOVED TO MAKE THE THREAD MORE READABLE
If you need your tally again, let me know and I'll re-send it, but at this point the most accurate tally will have been reflected in the PayPal invoice I sent.