Joined

Feb 8, 2015
Messages

606
Location
In my previous post of Phesant wood pens It was suggested by George V (Robutacion) that a cross Grain would look good. Here is his comment:
"With this Pheasant wood, one of the things that impress me is the end-grain,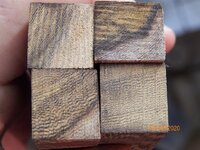 regardless if the wood is a light or dark colour that end-grain layers layout is just stunning, unfortunately, the wood I get has the dimensions of 55x4x2cm but if I had/could get a piece/board 130mm wide and at least 21mm thick I would be cutting lots of cross-cut blanks and stabilise them for further strengthening, I may make a glue-up I doubt we would be able to see the joints, I will try and report.
Cheers
George "
So here is my attempt at gluing up and turning a normal blank I got from him. For comparison I am posting a normal straight cut blank on the same pen kit. While I think the glued up blank is nice I must agree that a one piece cross-cut blank would make a really nice pen. Maybe one day he'll be able to get some large enough to cut up.
Very interested in what you may think.
Larry