Joined

Oct 7, 2018
Messages

45
Location
Somehow, I made a mistake in a PSI Cigar, and the cartridge doesn't retract all the way. I must have cut the tube a little short, around 1/32nd of an inch. Just enough that it will still write. I imagine I was too aggressive squaring the blank. (I've made about ten of these kits, and this is the first time I've had this issue. The longer barrel is on the bottom.)
I wonder if another type of blank would fit and solve this problem. This amazing page lists the Parker (standard for Cigar) as 3.875", the Caran D'Ache at 3.81, and the Sheaffer at 3.75".
https://refillfinder.com/pages/refill-size-guide
Do you think one of those would work? The wood used has some sentimental value and there's no more of it left, so it would be nice to fix this.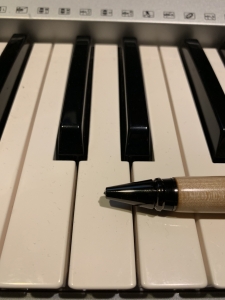 Last edited: