Joined

Aug 6, 2009
Messages

6,514
Location
Well, I meant a chopping board made of hearts and kidneys, sort of...!
The 2 guys from Koi knives, the 2 old friends that have been ordering my Resifills for their knife handles, one of them has just recently had his 40th Birthday and the other friend requested me to make a chopping board for his friend as a birthday present as he loves cooking, Their kitchens now (and so is mine) has some of their model knives that will make any kitchen and or chef look good and enjoying these very professional steel tools that work as a knife should in a kitchen so, this friend though in having a chopping board of fair size 15" x 11" oval made to match the subject matter of the hew knives handles which are a combination of woods, pods and resin.
I was without a doubt the obvious person for creating this unique board that originally was going to be an angled cut trunk wood slice with bark with some holes, intrusions places where I could fill with resin but and after a quick look I didn't find anything that I was happy with so, I remembered some Black Wattle tree limb slices that I have had stored under cover for about 12 years.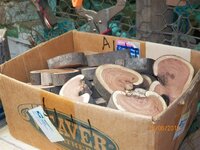 Some of these limbs had some areas of the bark that had rotten way creating the "curly/rolling under" effect and the tree tries to repair the area, most of the wood sapwood has also been attacked by the small wood borer so I had these slices about 1" thick that looked like hearts with some of them being a bit more flat in the diameter resembling kidneys so, I decided they would be great candidates to stabilise and cast in resin.
I sort of played with different possible designs for these slices, I endup with the one option that looked the best creating similar top and bottom parts with these 2 different shaped pieces in the middle. The rest was simple, make up a mold with the correct shape and height, position and glue all slices back in the mold and them poui some resin that I wanted to be semi-translucent but not too transparent.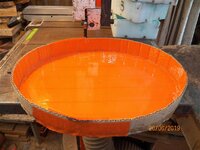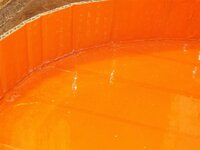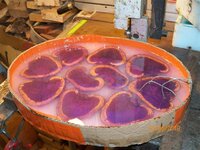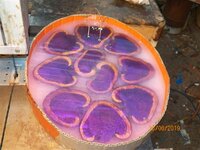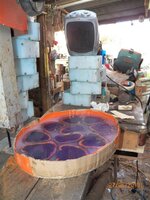 After a couple of days and because this couldn't fit in a pressure pot I was a bit concerned with any bubbles but I took some preventing action the day I poured the resin I spent the next 3 hours nursing this cast by having it on top of mt bandsaw turned on so vibrating, an air heater blowing warm air as the temps were in the 10th and then using my heat gun I kept going around and around making sure any bubbles popping up were blown up by the heat gun, I only stopped when I start seeing the resin to gell from there on, leaving it alone overnight was the best solution and that worked, no bubbles at all.
After harden sufficiently (5 days) was time to remove the mold and start flattening both top and bottom surfaces, I had a bit too much resin on the top but I wanted to make sure that any soaking wouldn't drop the resin level too much so was a case of better a biy too much than not enough. The drum sander did most of the work with 40 grit with the last pass with 100grit after that was all elbow grease to hand sand up to 400 grit. I wanted the wood to be exposed on both sides, this wood after stabilised has become extremely hard and that is what I wanted so that any knife cuts don't go deep/mark in the board.
I wanted also the surfaces to be free of any toxic coatings so, I used a food-grade wax and the polishing wheel to buff it a bunch and here is the result.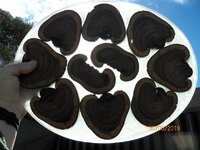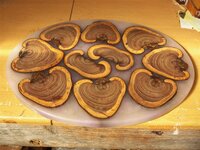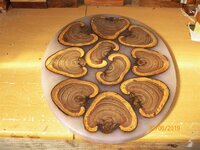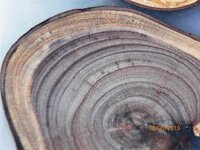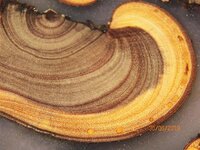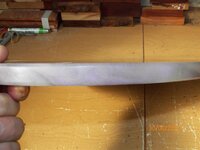 I know that the Birthday boy was most pleased with it and so was his friend the one that asked me to create it, it would be fair to say that it is a unique piece and one of a kind, I was pleased with it.
Hope you like it.
Cheers
George