I have for sale Irish bog oak pen blanks.
Bog oak comes from the midlands of Ireland.
Size: 3/4 x 3/4 x 5.5 inch.
Blanks are kiln dry and have no cracks.
Price for 5 blanks - $20.00 plus $8.50 for postage.
Price for 10 blanks - $40.00 plus $10 for postage.
Price for 20 blanks - $80.00 plus $20 for postage.
Payment through PayPal.
Delivery from Ireland to USA takes 5-7 working days.
I have this bogoak carbon dated from queens university Belfast. A copy of the results will be giving with each purchase. (4464bc +/- 9 years or later).
Here is my last tread from last year.
http://www.penturners.org/forum/f15...s-6500-years-old-158990/f158...rs-old-157209/
i can send blanks that are black or a mixture of black and brown blanks. Pm me for preference.
Attachments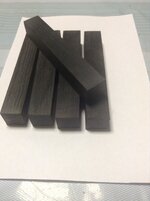 Last edited: