Joined

Dec 1, 2020
Messages

311
Location
I'm not sure if this process is right or wrong; unique or common. But it works for me and I want to share in case it's interesting.​
09: Center Band Circles: Part Deux
The Jig Is Up
last post: 08:
Exploring Proximity with Dots

A few weeks ago I posted
about a jig I built to
drill holes at regular intervals
around a wood Center Band.
I appreciate everyone's feedback and wanted to
share an update
with some improvements.
Also, a few people asked
how they could get one
and I have a couple of options listed at the end of the post.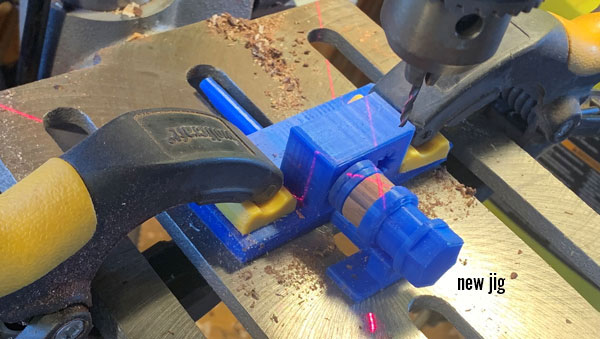 The Upgrades
a 30 degree guide to compliment the original 45 degree guide
stool/holder assembly more stable
adapters for 7mm holes
a caddy to keep track of all the pieces and assist with glue-ups.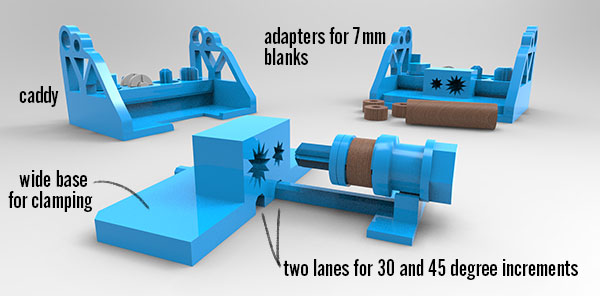 30 and 45 degree attachments
The original 45 degree increment was fine but I thought having more dots at greater frequency would look better. I added a 30 degree attachment which works well with smaller dots.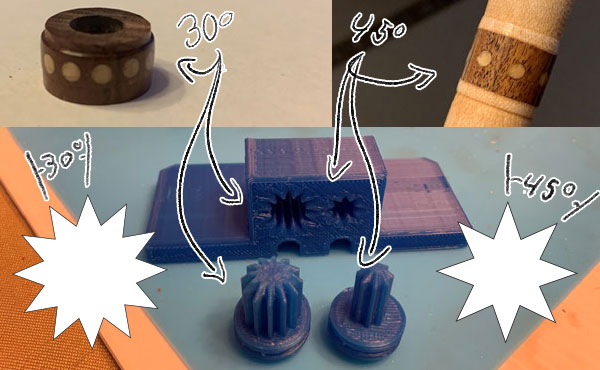 With
two separate attachments and lanes
I can drill holes every 30, 45, 60, 90, and 120 degrees.
| | | |
| --- | --- | --- |
| degrees​ | which attachment to use/how | # holes per 360°​ |
| 30°​ | 30° attachment | 12​ |
| 45°​ | 45° attachment | 8​ |
| 60°​ | 30° attachment- every 2nd hole | 6​ |
| 90°​ | 45° attachment- every 2nd hole | 4​ |
| 120°​ | 30° attachment- every 4th hole | 3​ |
Support Stool and Holder Assembly
These pieces are critical to getting good results. The holder was shortened and reshaped. It is easier to hold stable while drilling.

7mm Adapters
The system assumes your center bands are drilled with a 1/4" hole.
To use with 7mm blanks I made adapters that snap between the jig pieces and wood blank.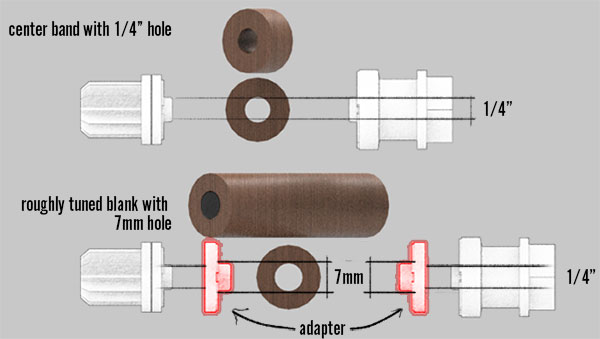 Tip:
I'd recommend attaching only to wood. Brass tubes could damage the plastic holder assembly.
The caddy
Having a way to hold the wood while gluing was helpful so I built this functionality into a caddy.
If you have a spare mandrel or 1/4" rod this is an easy way to free up a hand while gluing.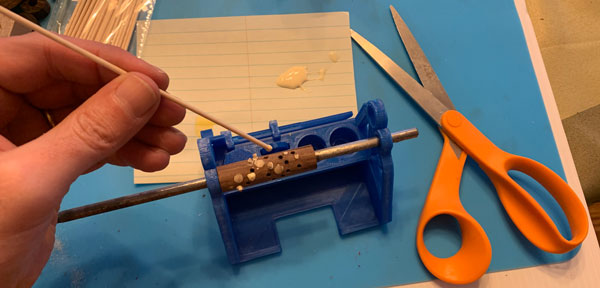 Summary
The new jig is easier to use than the last one. With it I achieve what I'll call "rustic precision" meaning it is not perfect but close enough to look "handmade with care."
This is my latest pen which I used to test the new jig. I'm pleased with the way it turned out and enjoyed the process of making it.

How can you get one?
If you have access to a 3d printer, I'm attaching the geometry file (CenterJigV2.zip).
I'm not looking to sell these.
I am going to print a few extras and will mail them out to the first folks who ask for them. I may not be able to make many. Depending on requests, I may ask you to pay for shipping or make a voluntary donation to a charity... I'm still thinking this through. Once I have a few printed I will place a post in the IAP Marketplace->Trades, Gifts and Wants subheading with details.
- Cullen