Joined

Jun 9, 2017
Messages

850
Location
Greetings from
N
ebraska.
This morning I finished up a Tube Measuring, Blank Cutting Jig for my bandsaw version 2.0 by printing and applying some labels. My original design has served me very well and there really isn't anything wrong with it, however, I have been wanting to make a version that can be built using simple already dimensioned materials that can be found in my local home improvement store, except perhaps for the piece of T-Track which I ordered from Rockler.
Anyhow, it is essentially made of two pieces, a bandsaw sled base and a slider. The descriptions follow, but it is much more clear by simply looking at the attached photos.
The sled is made from an 18-inch length of 1x4 inch pine with a short piece of 3/4 by 1/4 inch piece of Oak Screen Molding that rides in the miter slot on the bandsaw. (I used Oak instead of pine simply because it is a harder wood and should wear better as it slides in the miter slot). On top is mounted an 8-1/2 inch length of T-Track which is extended to the full 18-inches with a piece of 3/4 square dowel. (I sanded the dowel down just a little to accommodate for the thickness of the label that was applied). There is also a 1/4-inch square dowel used as an outer guide rail for the slider and another bit of 3/4 square dowel as a stop for the tube gauge and one to keep the slider from accidently coming off.
The slider is made from a scrap piece of 1/2-inch plywood with a hole drilled through it to accommodate the T-bolt. The bottom is fitted with a length of 3/4-inch square dowel as part of the tube gauge and a couple of short pieces of 3/4-inch square dowel that pushes against the blank.
This is a top and bottom view of the sled and slider.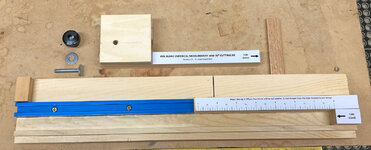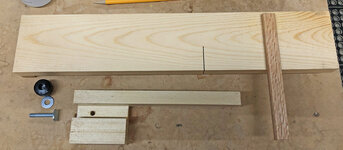 This shows where the tube and blank go on the fixture.
The tube length itself is what determines the length of the blank.

Here are the results from the cut from the picture above.
Note that the blank is consistently about 1/8-inch longer than the tube.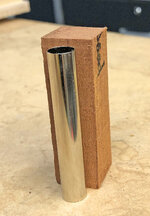 For Reference, this is a photo of my Version 1.0 jig.
It is conceptually the same and works the same, but it required special router bits to cut the integral T-Slot into the sled.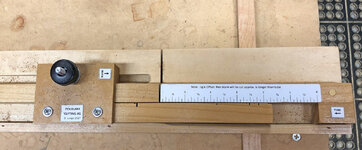 There is enough throw that I also use this to cut raw blanks to the desired 5 or 5-1/2 inch lengths.
It has been a very useful jig.
Regards,
Dave
Last edited: