Joined

Jun 13, 2017
Messages

632
Location
Hi - I have had several problems with the plastic pumps you install on gallon jugs of resin for casting. I ordered 2 pumps, one for Part A, the other for Part B.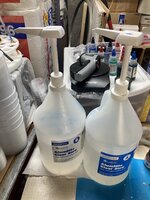 After only a couple uses, the Part A pump seized and would not pump. I end up unscrewing the pump from the bottle and pouring the resin into the mixing container. Needless to say, pouring is not as precise as pumping. I thought, OK - I got a bad pump. So I ordered another. Same thing - several uses and seized. I'm afraid to push too hard on the pump, for fear it suddenly lets loose, or worse, breaks.
I didn't think there was any maintenance or cleaning for these pumps. The only no-no was to switch them between A & B for obvious reasons.
So, did I just get a couple duds, or is there something I can do to get the pump working again, or is there a better source for these pumps? I got these from TurnTex and Exotic blanks, and I honestly can't tell which I got from which supplier.