Joined

Aug 5, 2013
Messages

6,664
Location
Mere Male (me) – " Oh no, don't throw that out!"
SWMBO (wife) – "What do you want that for? Haven't you got enough Junk already?"
Mere Male (me) – " I can use it!". :wink:
SWMBO (wife) – "When are you going to clean up your Workshop, and get rid of all that Junk?" :at-wits-end:
Mere Male(me) – "I am working on it, I have got to make a hole, dig a clear space so that I can sort out all the items into logical groups, so I can then determine where it can go, based on it's size and usage." :wink:
SWMBO (wife) – "I know where it all can go, into a Waste Skip, then to the Tip!"
Mere Male (me) – silent thought "I am not going to win this; I retreat, into the Garage, with the Item under my Arm".
I do not believe that I am Unique, I believe that many of you will have trod a similar path, so I put my case for your consideration I present just three Items that over recent time have been the subject of the above dialogue.
Was the result worth the Trouble - You please be the Judge! :biggrin: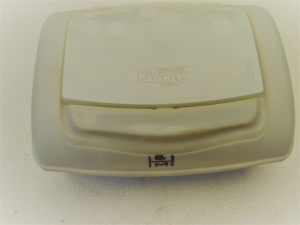 View in Gallery
Photo 1 - A Plastic Container, previously contained Kleenex Wet Tissues.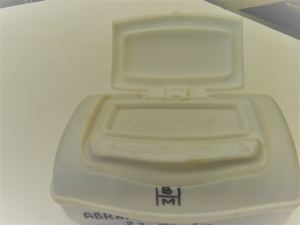 View in Gallery
Photo 1.1 – The Kleenex Box with the pull-out lid open.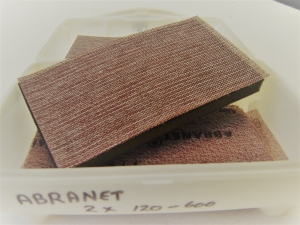 View in Gallery
Photo 1.2 – The Kleenex Box, with the Main Lid Open, showing the New Contents, namely two sets of Abranet Abrasive , in ascending order from 120 Grit to 600 Grit, with the Abranet Interface Pad.
This is placed on my lathe bed, to the right of the Tail Stock.
As a Grit is used or passed over, they are placed abrasive face up on the open lid, so that they maintain the correct position when turned over a put back in the Box.
The reverse side is upper most so that the Grit size print is visible.
As Abranet is my preferred Basic Abrasive, I take this box with me when I demonstrate, or when I am working at the Men's Shed, on my own work.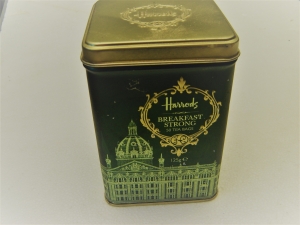 View in Gallery
Photo 2 – A Tin Box, previously contained Harrods's English Breakfast Tea Bags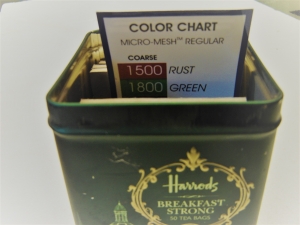 View in Gallery
Photo 2.1 – Harrods Tea Bag Box with Set of Micro Mesh in Ascending Order of Grit Rating from front to back,
The Tin stands where the Abranet was previously placed on the Lathe.
The Colour Guide is used as a Divider in front of the Pad with lowest Grit Size. I remove the Pads, from behind the Divider, and when completed, I place it in immediately in front of the Divider, so I am maintaining the correct ascending sequence of Micro Mesh Pads in the Tin.
When the last Pad is used, I return the Divider to the Front of the first Pad.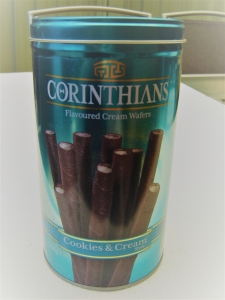 View in Gallery
Photo 3 – A Round Tin, previously contained Chocolate Cream Wafers.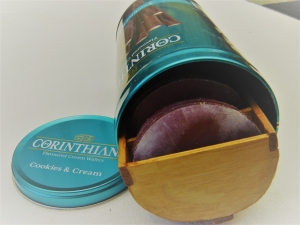 View in Gallery
Photo 3-1 Round Tin with ply wood carrier to fit Round Tin, with 2.75" cloth backed Sanding Disc's from 180 -2000 grit, for Velcro Bowl Sanding on Self Driven hand wheel.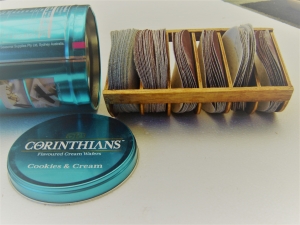 View in Gallery
Photo 3-2 Showing the Carrier fully retracted from Round Tin, This carrier is made with a No Roll bar on the lower edge.
Leaving it all aside, I hope that my use of junk may give you an idea on what you can also do, if you should feel the desire or the need.
Regards
Brian