Joined

Mar 17, 2016
Messages

936
Location
I just ordered two aluminum boxes with handles for carrying my pens for $15.00 each. They come in two sizes: 8.25 X 17 and 11.75 X 21.
Here is what I ordered: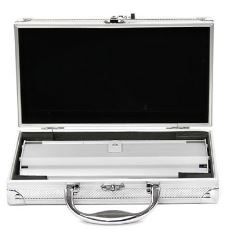 View in Gallery
Here is a link to where I got them from:
https://www.postupstand.com/products/table-top-displays/table-top-display-accessories/aluminum-case-for-table-top-display/
These boxes are made to carry table top display items and have only a very small amount of padding in them. You would need to add the padding to handle your pens safely and securely.
I will be using the following from creativesafetysupply.com to line my boxes:
https://www.creativesafetysupply.com/foam-tool-kit-16-625x22-25/?gclid=CjwKEAjwoLfHBRD_jLW93remyAQSJABIygGp0oBSxdy-JAS0lHM4t1NnI1Ua3QBrXaK2cofPf_jPJBoC_U7w_wcB
This product is a little more expensive than just regular but it is a denser foam than some of the others. There is also a product called Kaizen Foam that is sold by Rockler and Woodcraft which would do the job and is about half the price of what I am planning to use. The stuff I want to use is 3/4 inch thick with a 1/2 inch piece on top and a 1/4 inch bottom piece. That would allow me to have two layers in each box that could lifted out when ready to set up a display.