Joined

Aug 6, 2009
Messages

6,514
Location
G'day peoples,
Be aware, this is going to be a long thread (what a surprise, huh?):biggrin:
Well, after 3 1/2 months of not doing much from being unwell, I knew that I would have plenty of things to catch up with so, I got going the best I could and get one job done at the time and slowly I'm getting there.
One of the "things" that I was missing was the wood chasing and while the trees work the wife and I done for years, we stopped that on Easter 2013.
Since then, has been mostly picking up what I would see, already down or cut from some of the tree work companies operating in this area. There were 2 of these companies that I saw operating recently in my area and when I approached them to find out what they were cutting and the possibility to have some dropped at my place, I was told that, all their wood was being dumped at the MacLaren Vale firewood processing place that, I knew it was there but unseen from the road, I didn't think that would be much point in stopping because most of the people around here with "Firewood for sale" signs in front of their places, is pretty much what they can cut from their own trees, mainly gums and pines.
When I was told that, the council dumping charges are now $80 per tonne and some considerable distance to travel from these areas so, was a lot easier, less time consuming and extra profit from their jobs to simply dump it at this firewood processing place.
About 3 weeks ago I decide to visit the place and what a surprise I got
, the place is huge and the piles of logs everywhere, were simply "candy" to my eyes:biggrin:
The owner, Ken is a 65 years old and a damn hard worker, he told me that he has been there for over 30 years, splitting and selling firewood, mulch, chips, kindly and plenty of horse manure bags from his horses at the back of the property.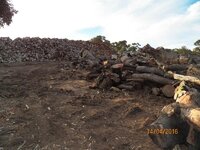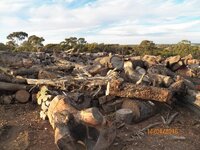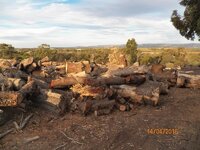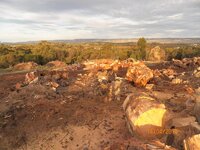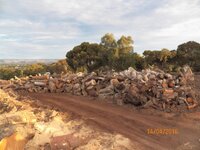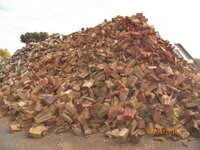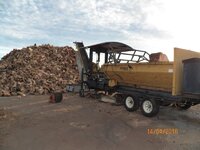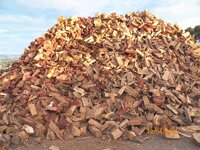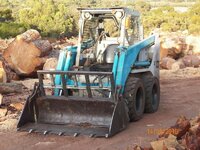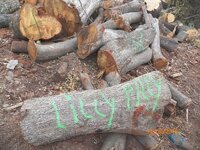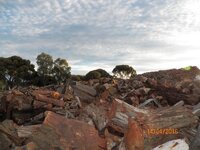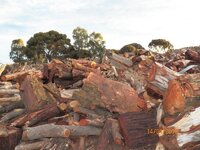 After some talking, explaining what I do with the wood and why I was there in the first place, Ken seemed comfortable with me around and didn't hesitate to give me permission to look around and put aside any wood I wanted for a discounted price because, was not split.
He also has a 3.5 tonne truck and a ute that he uses to make deliveries however, most of the sales, people drive to him to have their trucks loaded with good firewood.
I told him that I was going to walk around with some cans of fluorescent spray cans (pink and green) and mark with a cross anything I wanted to be put aside for me. The bobcat driver is also a 65 years old Polish guy (Wells), he also makes some deliveries on the ute, only.
It didn't take me long to get one spray can empty and in need to grab the green can from my vehicle. While admiring the piles of logs divided in 4 main sectors, dry Gum at the front, green Gum at the back, on the other side were, mixed woods (Pine and anything apart from Gums), the dry stuff at the front and the green stuff at the back, I looked around and I couldn't believe how many logs, some quite big I had marked with the pink spray can, you couldn't missed them even if you tried.
Ken walked up to me and said that, I looked like a kid in a candy store I was really enjoying myself. There were some many woods that I didn't know/recognised what they were however, there were all from this area, I would say 50km radius from me.
I had my 6x4 trailer with me so, I had it loaded with Olive wood I spotted in a far corner, plenty of good logs that I wasn't going to leave behind, I would get all of it taken to my storage paddock ASAP, why..??? because he has the property and business for sale so that he can retire and travel around the world after his visit to many of the countries, already.
I thought to myself, I'm not going to risk to wait until the place is sold, with my luck, the new owner may not welcome my presence as much:wink:
It was getting late in the day so, I asked him to pick-up all the marked logs and put the in an area/spot that he agreed to be "George's stash" area. I did also tell him that, I was going to come back the next day for another trailer load and that, he could load his truck and follow me to my place/storage paddock so that he knew where to take future loads.
The next day, first thin in the morning I was there and he has loading the truck with my stuff, he was moving my logs to my designated area and he realised that, would be a lot better to load it up into the truck and get a load down to me that morning.
My trailer was again filled with Olive wood logs and the bigger logs loaded into his truck that he worked out would be another 2 or 3 trips for him to get all the marked logs unloaded in my paddock. So, after we discussed the other loads, I left and he was behind me with the first truck load.
Just over 30 minutes later, we were at the paddock gate and his load was tipped out in seconds (tip truck), I left my vehicle and trailer in the paddock and jumped into Ken's truck for another trip to his place and get another truck load.
In less than 24 hours I had 2 truck loads and 2 of my trailers unloaded, and approx. weight of 7.5 tonnes, at least.
I got some of that wood home and started slicing it all up, most of it is green but, lots of it are dry but very water soaked wood. I got pretty saw quite quickly, the body is still a little weak so, a bit of a struggle to handled the logs into the bandsaw, and that was only the begining..!
I have turned a few green logs into finished size pieces, I was missing some bowl turning so, I spend a couple od days getting "my fix"
Since then, every time I need to go that way, I take the trailer and get it full of wood in the way home. It has been another 5 or 6 trips with my trailer, every time marking a few new logs that, were either unseen before or dumped recently.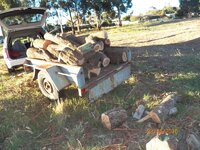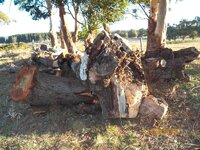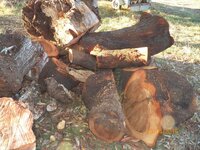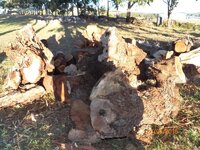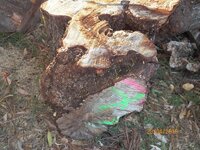 My George's stash spot at ken's place is getting bigger and bigger even tough, I keep getting trailers full twice a week or so, what am I doing with it all...??? I worry about that later.:biggrin:
There was a bit of money spend in those first 2 truck loads and the 2 trailers full so, I would have to have the loads delivered as I could, money's are tight.
On my second trailer load, I had the chainsaw with me as I wanted to cut down a few shorter pieces from big logs I had already marked, particularly the woods that I didn't know what they were (still don't) so, Ken saw me operate the chainsaw and when I told him that I would need to take it easier for the next truck loads due to low cash availability and then is when he tell's me, "You can have all the wood you want and not pay, I would love to have you up here cutting some wood for me (slice logs into firewood size disks)"
Well, you can just imagine what I thought of that idea, I wasn't going to pass on that opportunity, it suited me perfectly, was only one problem, how often could I be there and how many hours would I last to make it worthwhile the trip, not forgetting that, I would have my trailer with me so, I would bring another small load back.
I was there yesterday for 6 hours and last week for about the same time, he will be happy to see me there as often as I want/can, I'm a very fast chainsaw operator and have all the necessary safety gear when using it.
If I could, I would like to go there every day in the afternoons and make sure none of the good stuff is cut into firewood, if the wood is dropped green, I have a good chance to spot it while is drying but, if is dry, it may be dropped/unloaded at the front and it will be slice and split in no time.
The "treasures" from that place that have been burnt as firewood, the treasures that are still under piles and piles of logs and the treasures that can be unloaded in that place at any time, unless I'm there, they are gone...!:redface:
Ken has a big firewood business, he claims to sell about 1.500 tonnes every year, each pile contains approx. 600 tonnes of split wood and he has 5 piles done with much more to be done in the next few months, the Winter is just starting to show its face so, he will be very busy selling from now on, one of the reasons why he needs some extra wood sliced up for the big splitter.
While I'm super excited with this opportunity and the fact that I already got from there some very new and nice logs, I may need to put a break on how much chainsaw work I'm doing and how much weight I'm handling, I know that I will pay dearly for it, try to convince my brain, otherwise...!
I will be showing some of the pieces I already done with some of the new woods, pics of loads and sliced treasures, many of these species will have some pen blanks available very soon, I have plenty of green and wet wood in the oven, it's always full...!(poor Merissa):biggrin:
A lot more to come,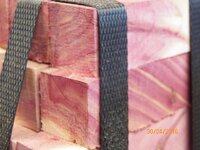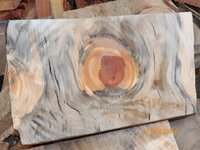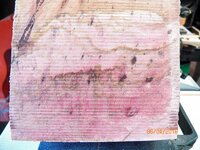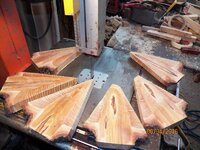 Cheers
George
Last edited: