Administrator
Staff member
Joined

Dec 5, 2003
Messages

8,449
Location
Drawing held 2/28/2021
RESULTS HERE
2021 DONATION DRAWING
When you buy one of our 2021 Fundraising Items, you're automatically entered in the Drawing.
Don't care to make a purchase? No problem! See below for other ways to get your name in the drawing.

IMPORTANT NOTES: (1) This isn't a raffle, so buying multiple items or placing multiple orders does not not increase your chance of winning something in the drawing. One entry per member. (2) The drawing will be conducted on Sunday, February 28, 2021 around noon US Eastern time. (3) We use a third-party draw service from random.org to execute our drawing. Drawing results will be conspicuously posted.
Other Ways To Enter
If you prefer not to purchase a fundraising item, you can still get your name in the drawing:
METHOD 1: Visit our Donation Page and make a donation in any amount you wish.
The donation page magically captures your IAP username, and we'll automatically enter you in the drawing.
No purchase or donation is necessary to enter:
METHOD 2: If you would like to be entered in the drawing, but you don't wish to buy a mug or make a donation, simply do the following; Send a postcard with your name, address, and IAP member name via Postal Mail to: Jeff Brown, 23618 Concord Dr., Westlake OH 44145. Your postcard must arrive on or before Saturday, Feb 27, 2021
Below are the Donation Drawing Prizes
(prizes will be added until the end of the month)
This post contains the complete, official list of prizes
Posts below provide additional prize details. They are not additional prizes
Prizes will be drawn in the order of highest to lowest value
​
---
Feathers & Casts from John Underhill @JohnU $350 Value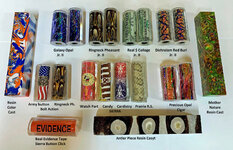 ---
Diamond Knurl ballpoint kits and Kirinite Blanks from Exotic Blanks $150 Value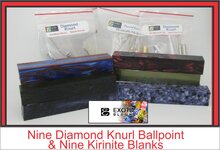 ---
$150 Gift Certificate to
Niles Bottle Stoppers

---
$100 Gift Certificate to
Bell Forest Products

---
$150 Gift Certificate to Craft Supplies USA

---
Diamond Knurl rollerball kits and Kirinite Blanks from Exotic Blanks $150 Value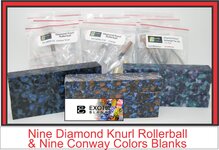 ---
$100 Gift Certificate to McKenzie Penworks

---
Free registration for the 2021 Virtual MPG (PMI Annual Symposium) $35 Value from @TonyL
(We have two of these to award as separate prizes)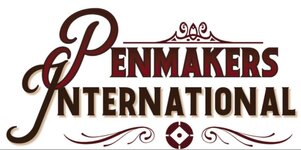 ---
$100 Gift Certificate to George's Bits of Timber

---
Silver Sierra Kits from Silver Pen Parts $175 Value
(We have two of these to award as separate prizes - slight different styles)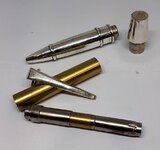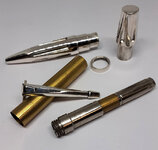 ---
Crushed Synthetic Opal and Ring Cores from Exotic Blanks $150 Value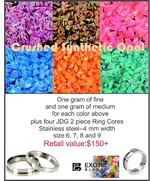 Last edited: