Joined

Aug 11, 2008
Messages

1,642
Location
Welcome to the "Freestyle Casting Contest Test Poll!"
Take some time to look over these Awesome entries. They've all work hard on their projects and in my book they're all winners. Please select your three favorite and cast your vote for them. Voting will close at High Noon MST on Feb. 24th.
The TOP 3 will be reposted for the final vote starting Feb 25th. 2017.
Please note that one entry didn't quite meet the phot requirement. They did submit four pictures close to what was required. I've posted them along with the rest. Let the member's vote decide the best.
​
Contestant # 1
Violin Music Pen. This pen was made using Copper Wire & Aluminum Tape The copper wire wire has been bent to form the border of a Violin and various musical notes, they were then bent to fit around the tube, which has been covered in Aluminum Tape and Embossed, the ends are adorned with copper wire and armor plates to add further character.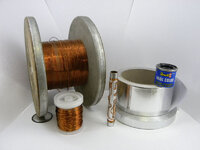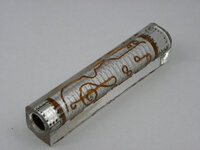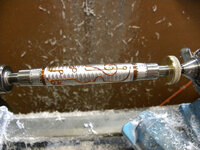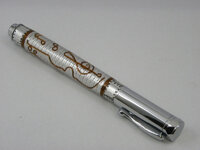 Contestant # 2
So yeah, this is the first solid object(s) I've ever cast in my new pressure pot and managed to turn into a pen. While there are a lot of things I'd improve on it, I figure it's worth entering since it at least seems to fit the rules.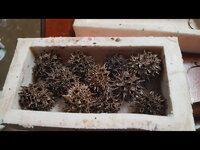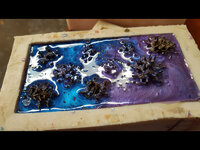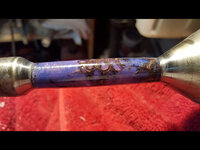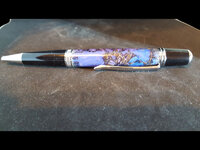 Contestant # 3
This pen is made with jewel beetle wings cut into small rectangles cast in polyester resin. The wings were cut using a punch and then carefully glued to the black tube. The kit used is a David Broadwell's Art Deco in Black TN and Gold TN.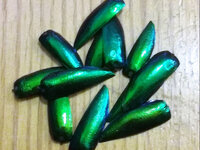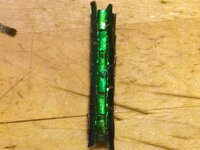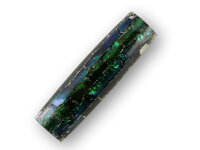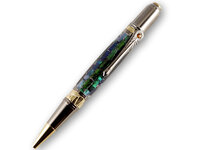 Contestant # 4
Blue scale double cross wrapped Mogul.I used Sulky 40wt thread,wrapped 1 at a time.Approx 180 threads,set with extended cure CA,Then I casted it using Liquid Diamonds epoxy resin.I then cut the blanks to size and turned them between centers one at a time,the mandrel is just for the picture,sanded and buffed with PBC..Was not happy with the satin clear after assembly so I masked off the nose and clip and buffed the blank again using a clean buff,much happier with the results,who'd a thunk it a clean buff with no compound polishes epoxy.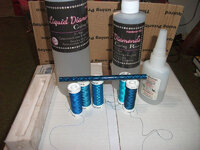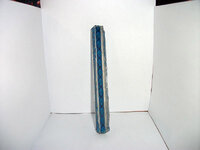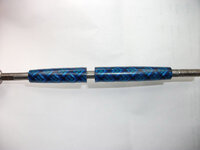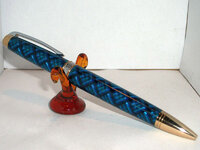 Contestant # 5
My entry is a watch parts Emperor Roller ball. I used dials from 12 Omega watches as well as watch parts, gears etc to make this pen. I used distressed foil tape and cast in PR prior to turning, sanding buffing and finishing the pen. I've never seen this many watch dials used on a pen and very happy with the results.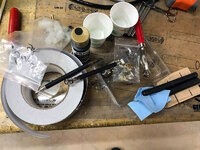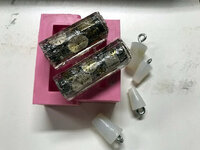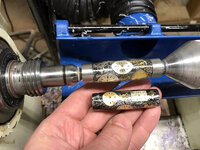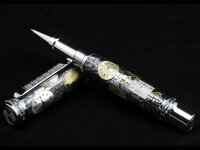 Contestant # 6
I de-reconstructed the water color paper and added it to a binder and applied it to the tubes. Once dried I painted on it with water colors. Then the Blank was cast in resin. From their I turned the blank down and applied many more layers of paint to build it back up as well as gold leaf. I finished it with a CA finish.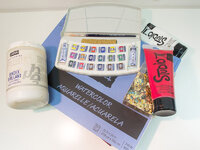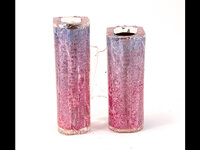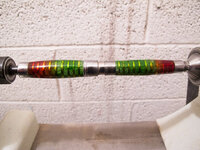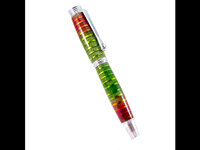 Contestant # 7
Here's my entry in the Freestyle Casting Contest.
I take the beer caps cut off the crimping and scrape the seal off.
I then wrap the cleaned caps around the appropriate size transfer punch to get a tight fit on the tube. Once I have enough to cover the tube a drop of CA will hold the caps in place. I then place them the mold and cast in polyester resin. I then turn and polish with MM.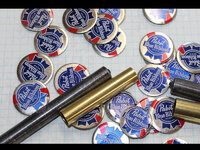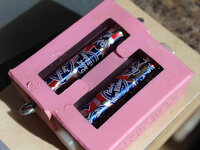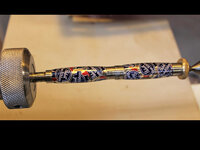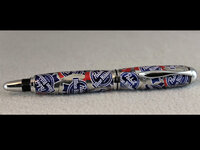 Contestant # 8
This pen is intended to represent the Feathered Serpent which was a prominent supernatural entity or deity, found in many Mesoamerican religions. It was called Quetzalcoatl among the Aztecs, Kukulkan among the Yucatec Maya, and Q'uq'umatz and Tohilamong the K'iche' Maya. The pen was made by casting a label, snake skin and feathers on a single tube.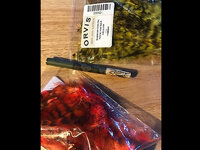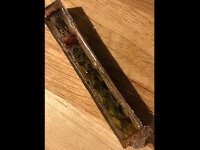 Contestant # 9
This is Titanium/black rhodium Mistral roller ball kit from Beaufort Ink.
The body is Olive Wood Burl that I stabilized in Cactus Juice. I space the blanks out in the mold and hold down with a screw so they don't float. The resin is Alumilite with powder and liquid dyes for coloring.
I pressurize the mold to 60 psi to force the Alumilite into the nooks and crannies for positive adhesion. I turn it down, sand to 800 then coat with CA. I sand, Micro-Mesh, buff and polish the bodies after that.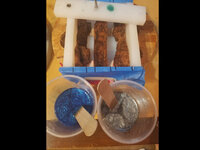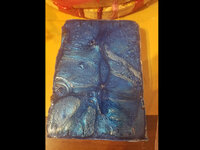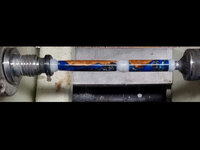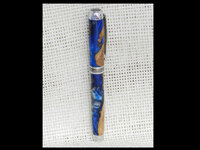 Contestant # 10
My wife is a crafty person and she likes to knit and crochet, making a lot of stuff out of yarn. She asked if I ever thought about making a pen from yarn, so I gave it a go. I took a Sierra pen tube, several different types of yarn and wrapped and glued it, cast it in a small bit of PR, turned it and it turned out pretty neat! Here is the required information along with the pictures. Hope everyone likes it!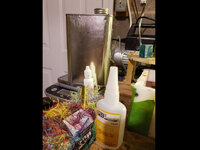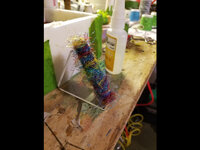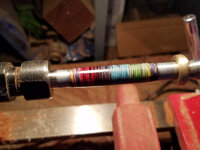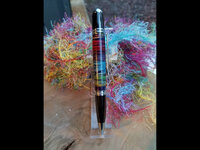 Last edited by a moderator: