Joined

Feb 6, 2013
Messages

6,024
Location
The Summer Extravaganza Wood ID contest that you have all been waiting for with bated breath is now underway.
The complete rules for this contest are posted
here
, but just are a few reminders:
1. Your IAP profile MUST include your full name
2. Only one entry per person
3. You must post your entries in this thread
4. You may not edit your entry once it has been posted
5. You earn one point for each correct answer - highest point total wins.
6. Ties will be broken by the earliest entry.
The contest will run through Aug 24, so you have plenty of time.
Your post must list the numbers 1-10 which will correspond to the number on the left side each of the blanks in these photos. Type the common name of that blank next to the number in your entry.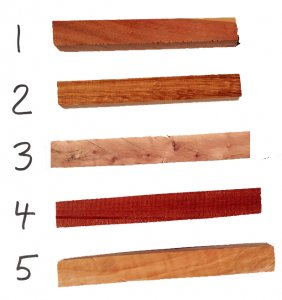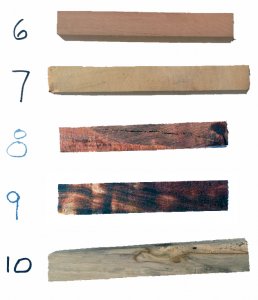 You can use this species list to help identify the blanks. Note that there are 25 names in this list, but there are only 10 blanks. It's your challenge to determine which 10 of these species are represented by the blanks in the photos and correctly identify each of them. I have included the scientific name of each species to assist you in your research, but your entry only needs to show the common name.
Alaskan Yellow Cedar (Cupressus nootkatensis)
Andiroba (Carapa guianensis)
Bloodwood (Brosimum rubescens)
Bradford Pear (Pyrus calleryana)
Brasil (Condalia hookeri)
Camphor (Cinnamomum camphora)
Chinese Tallow (Triadica sebifera)
Eastern Red Cedar (Juniperus virginiana )
Hickory (Carya ovata)
Honey Locust (Gleditsia triacanthos)
Huisache (Acacia farnesiana )
Jatoba (Hymenaea courbaril)
Lotebush (Ziziphus obtusifolia)
Magnolia (Magnolia grandiflora)
Mesquite (Prosopis glandulosa)
Mopane (Colophospermum mopane)
Mun Ebony (Diospyros mun)
Pecan (Carya illinoinensis)
Prickly Ash (Aralia spinosa)
Prickly Pear (Opuntia engelmannii)
Redheart (Cosmocalyx spectabilis)
Swiss Pear (Pyrus communis)
Texas Ebony (Ebenopsis ebano)
Wood Apple (Feronia limonia)
Yellowheart (Euxylophora paraensis)
First Place: a $50 GC from Classic Nib
Second Place: a set of Jr Gent Abalone Blanks from brownsfn2 worth $50
Third Place: a box of blanks & goodies from edohmann worth $50
Good luck everyone - have fun!
Edgar