Administrator
Staff member
Joined

Dec 5, 2003
Messages

8,479
Location
HAPPY SWEET SIXTEEN TO THE IAP!
It's that time of year again; contests, mugs, and of course, the DONATION DRAWING
When you buy a 2020 logo travel mug, you're automatically entered in the Donation Drawing.
Don't want to buy a mug? No problem! See below for other ways to get your name in the drawing.

IMPORTANT NOTES: (1) This isn't a raffle, so buying multiple items or placing multiple orders does not not increase your chance of winning something in the drawing. One entry per member. (2) The drawing will be conducted on Sunday, March 1, 2020 before noon US Eastern time. (3) We use a third-party draw service from random.org to execute our drawing. Drawing results will be conspicuously posted.
Other Ways To Enter
Don't need a mug, but want to support the IAP? Visit our Donation Page and make a donation in any amount you wish.
The donation page magically captures your IAP username, and we'll automatically enter you in the drawing.

No purchase or donation is necessary to enter: If you would like to be entered in the drawing, but you don't wish to buy a mug or make a donation, simply do the following; Send a postcard with your name, address, and IAP member name via Postal Mail to: Jeff Brown, 23618 Concord Dr., Westlake OH 44145. Your postcard must arrive on or before Saturday, Feb 22, 2020
Below are the Donation Drawing Prizes
Additional prizes will be added during February
This post contains the complete, official list of prizes
Posts below provide additional prize details. They are not additional prizes
Prizes will be drawn in the order of highest to lowest value
​
---
Abalone Blanks from Ron Robbins @brownsfn2 $340 Value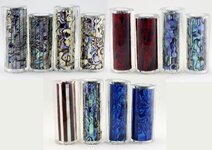 ---
Feathers and Casts from John Underhill @JohnU >$300 Value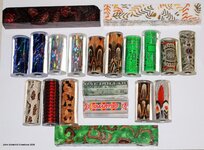 ---
Oneway Termite Deep Hollowing Kit from Charlie Gabriel @Dieseldoc $95 Value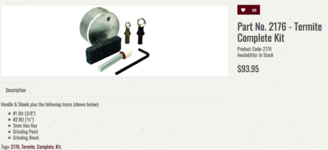 ---
Woodpeckers Ultra Shear Parting Tool w/extra insert $100 Value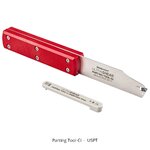 ---
$100 Gift Certificate to
Bell Forest Products

---
$125 Gift Certificate to
Niles Bottle Stoppers

---
15 Cigar Pen Kits and Kirinite Blanks from Exotic Blanks $250 Value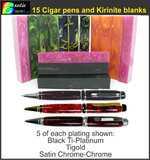 ---
16 Pound Alumilite Resin and 32 Piece Pearl Ex Set from Exotic Blanks $220 Value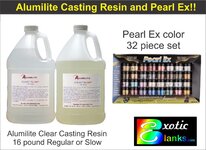 ---
$100 Gift Certificate to
T. Shadow & Co.

---
$200 Gift certificate to any pen supply vendor from @skiprat

---
A 30 ounce version of our 16th anniversary travel mug from @alphageek $30 Value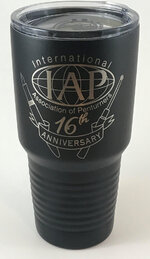 ---
A silver pen hardware set from @mredburn at Silver Pen Parts $150 Value
(Sorry, no photo!)
Last edited: