Administrator
Staff member
Joined

Dec 5, 2003
Messages

8,291
Location
2019 MUG RESERVATIONS ARE

CLOSED
Mug ordering will commence around Jan 25
If you make a reservation in this thread, you'll receive that mug when you order
Reserve only if you intend to follow through with the purchase within 2 weeks of the start of ordering
The 15th Anniversary mugs will be numbered on the bottom as they were previously. If you have a desire for a particular number, you may attempt to reserve it by posting in this thread when it opens. (Sorry, no photo yet because mugs have not been delivered. If you reserve, then change your mind once I post a photo, you can withdraw your reservation.)
Reservations are in a spreadsheet at the bottom of this post. If you don't see a member name or "Reserved", or "Unavailable" next to the number you want, and it has not been claimed in a post made since the list was updated, you can reserve it.
To reserve a number, simply be the first to post the number you want.
Post one choice only. Don't edit your post

Only one reservation per person

Ordering links will be posted in late January
The list below will be updated at least once a day. Check the posts made since the table was updated to see if someone else has claimed the number you want. This thread will be locked during updates.
If you post a choice, then realize it's taken, make another post with a new choice. I'll always take the last choice prior to updating the chart.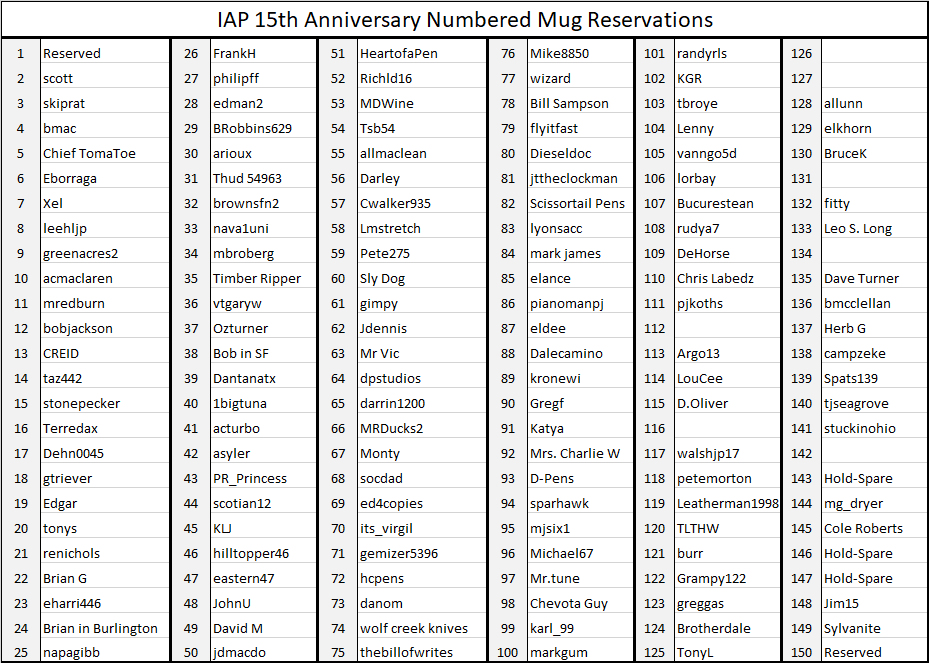 Last edited: