Joined

Feb 15, 2018
Messages

558
Location
I grabbed
this machine
off of Amazon using a $100 gift card that I had to try and engrave names/initials on blanks.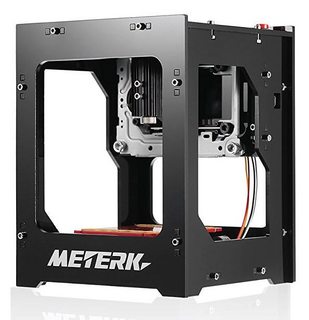 I also did a little research on these. They are inexpensive because they are made using the stripped down laser and transport systems built into a gazillion blu-ray and cd burners with virtually no modification other than the circuit board. They are basically all the same, so Neje, Meterek, Qiilo, Sixdu, Decaker...etc. same guts. This one came with software that says Neje on it, so it's generic.
Here is a vid of someone dismantling one.
I short..It works great once you figure out how to turn it on and how to use the software. As expected, the instructions absolutely suck but that is just a minor inconvenience. Loaded the drivers and the software found the machine without any issues. It seems that 3 things control the quality of your results. Burn time, # of repetitive passes and material you are burning. After a test on cardboard I went right to hard maple. Increase the burn time and the laser slows down and really digs into the material but if you are doing something that requires a lot of detail like a very small butterfly it seems you are better off lowering the burntime and making 2 or 3 passes. Make no mistake about it, you are "burning" the material so you can understand that a longer burn time kinda decreases the "resolution" as it burns the surrounding material. As far as resolution goes, it can print words in sizes too small to even see with incredible detail. It works on pens just fine. (dowels in my test) The software comes with 300-400 images and I was able to grab a jpeg of Muhammad Ail's eyes off of the web and print that. I'm sure there are other software suites that can do more but for me it gives me what looks like the suite of MS Word fonts so I'm good. I got the 1500mw version since I read somewhere that somebody didn't see a difference between that and the 2000mw version. I'm thinking that the 1000mw version would work just fine also. Never got the burn time anywhere near maxed out. Took about 10 mins to make that butterfly logo.
Max image that it can burn is 1 1/2" (38mm) seems to be about the limit. Not sure why I had 3" in my head. Using the provided software (which is basic and easy to use) nothing will print larger than the box provided. When I put type or drawings in that box and fill it the resulting burned image is about 1 1/2" wide. When the butterfly filled the box the resulting image is still only 1.5" wide. Kinda wondering what the next size up is but I imagine it would be spendy as this seems to be the limit of the blu-ray burner hardware.
The Decaker model uses the same laser and transport system and carriages as the others except that both transports are mounted in the top as opposed to the x-axis on top and the y-axis on the bottom. I might just exchange mine for one like Rich is getting as I can see the value in being able to sit the whole machine on top of a workpiece and it's only
$95 on gear best
.
Now to figure out how to get some type of accent color into dark colored pens. I've been told that after the CA is applied the letters are burned in then wiped with acrylic paint.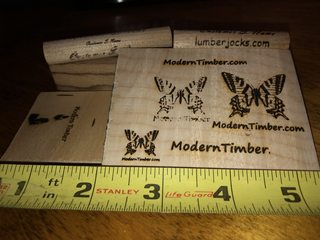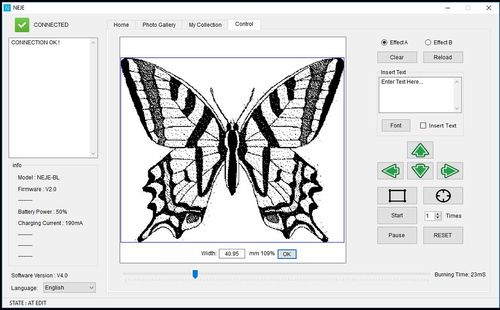 Last edited: