Joined

Dec 4, 2009
Messages

1,061
Location
Time to VOTE in the
2016 IAP 12th Birthday Bash Pen Photography Contest!!


:rotfl:
Voting will be open until February 24, 2016 11:59 PM PST.
​

All of the entries are in and we have seven to choose from. All you need to do is vote for one of the Pens. This will be a super difficult task as all of the pens / photography are beautiful.

Now it is time for the Members to vote!
Photo 1
: Description "A Sneak Peak" Even as I'm working on a batch of pens, I'm thinking ahead, planning, looking forward to what I'm going to make next. This picture is my attempt to capture that. In this picture are several of my most recently finished pens. Placed around these completed pens are the pieces and parts of some of the next pens I will be making - a few of these are pens I have been looking forward to making for at least a few months. At any given time you will find a small box on my workbench with some blanks in it that I'm planning to make into pens soon - my own "sneak peak" every time I enter the shop and think about what's next. The materials on the completed pens are Pink Ivory, Masur Birch, Bigleaf Maple Burl dyed Purple, Bethlehem Olivewood. The materials for the pens to be are Cast Carbon Fiber, Honduran Rosewood Burl with stripes of Ebony and white plastic, Cast Cholla Cactus, a Gisi-style blank made by a friend, and Spalted Maple.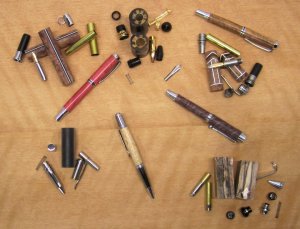 Photo 2
: Description This Pen was made with the Jr. Aaron in a chrome with Gold plating. The Blank is a Amalgam-Mutt Blank.

Photo 3
: Description Nikon D90, Nikon 60mm 2.8. Taken at f4 1/500. Mixed European style kit with acrylic blank, which looks like tortoise shell. Wet sanded to 12000 then finished with "One Touch."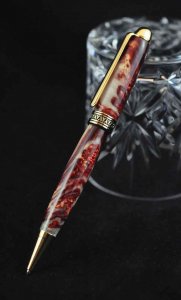 Photo 4
: Description This is a pewter Faith, Hope & Love pen with a commercial lavender pearl blank. It was photographed in filtered sunlight with an iPhone5. I used Photoshop to rotate & crop the image, remove some dust spots from the background and adjust the overall brightness & contrast.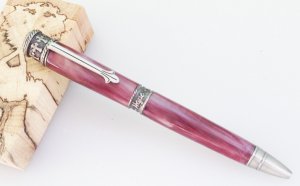 Photo 5
: Description This is a Roman Harvest Pen done in Rhodium/Gold with a M3 Titanium Glow Red and Black Blank. Wanted to expand on what I did last summer with this type of blank and photograph it under black light only trying multiple camera settings (AWB, Tungsten, Fluorescent, Daylight, etc.) with different exposure times. Finally settled on ISO 100 f8 30 seconds (with mirror lock-up) with a color temp of 8000K. Camera was a Canon 7D with a Canon EF 100mm 1:2.8 Macro Lens. Again, the only light source was a single 60W black light that I used to "paint" the subject pen by moving it around outside of the field of view. Thanks for looking.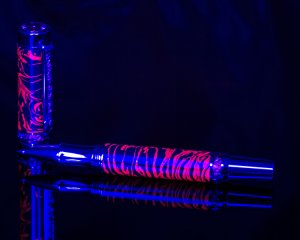 Photo 6
: Description This is a chrome plated Zen with a lavander crushed acrylic body.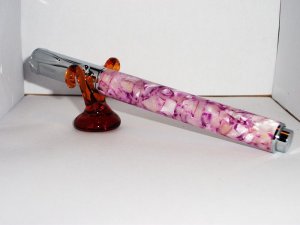 Photo 7
: Description Just having fun, I do not know enough of the jargon to describe the photo. Used a collapsible photo tent, indirect LED lighting, and the highest fstop on my camera.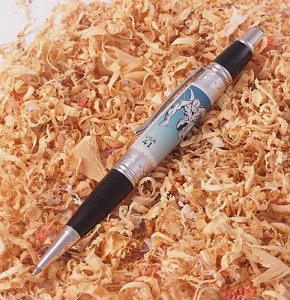 Thank you to the IAP vendors / members who provided the prizes for first, second, and third place.


1st Place: Inlay Kits #6

Lazerline

$100.00 ../.. Gift Certificate # 3

Turn Tex

$50.00

2nd Place: Blanks from

MikeinSC

$60.00 ../.. Alumilite # 1- 2lb package

Alumilite

$36.00

3rd Place: Leroi Elegant

Smitty

$40.00 ../.. Abolone blank for Sierra #1

Brownsfn2

$35.00​

​
Voting will be open until February 24, 2016 11:59 PM PST.

I am adding one additional day (ending on Feb 24 instead of Feb 23) because was not ableto post the poll as early as anticipated because of technical difficulties.
Last edited: