Joined

Aug 6, 2009
Messages

6,514
Location
Hi peoples,
I mentioned some time ago that I was going to get me, someone, to help me cut and move most of the big woods/logs I got 1n 2016 from the "closed" McLaren Vale firewood processing plant. After a long time looking/searching I finally managed to find a bloke is name is Waldo the same age as me but half my size that live in a nearby property and he is willing to get paid in exchange for some working hours here and there, mostly on the chainsaw (his own) but also loading and unloading it at my place/yard, Waldo will also be helping me to slab any of the bigger logs that I have had in the paddock for many years, mostly nice Macrocarpa but not only, some large Red Gum stump, already cut into quarters and one very interesting log crotch with multiple limbs in all directions, I'm not absolutely sure what the wood is but I will find out.
I forgot to take my camera with me when we first started to cut the logs into pieces I endup taking a few pics when most of the logs were already sliced up and this is how it looked like,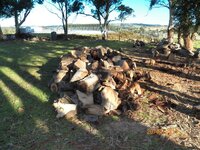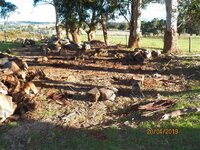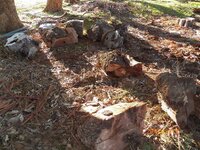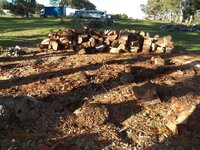 You can see the area where most of the "carnage" was done, lots of shavings...!
There is a far mix of woods on that pile mostly woods that became part of my timbers list in 2016 and that is the rest of the many tonnes I got from that firewood place during 2016 and 2017 most of which I doubt I will ever find again so this may be the end of the stock that will last for a few more years or for as long as I will be around.
As I said, I rarely slab logs as I don't really have much use for them in that form, the ones I made endup all being cut into shorter pieces but my thought behind the idea of slabbing a few logs is mainly due to my curiosity in seeing what sort of grains I will get out of these very interesting log/crotch, after the chainsaw milling is set up and we in the paddock, I will slab the bigger stuff before it all rotten away, so lets see that intriguing crotch/log,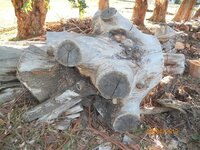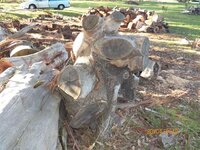 I have a few very large and old Macrocarpa logs that were from the main trunk base from some Macrocarpa tree that Bill the old local timber mill owner (closed down just over 2 years ago) cut and stored in his yard for one day, 40 years later they were still there. I can see lots of signs of curl and compressions, I expecting that wood to look identical to the Macrocarpa root that I once sliced up and the grains were simply amazing so here they are,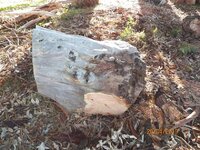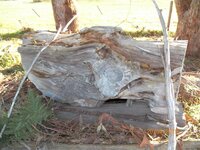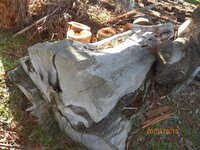 There is also a large Olive root that I got also from the McLaren Vale firewood place that I already cut a few chunks out of it but that I'm considering slabbing across the root bottom after turning it in upside down position from the way it was buried on the ground, these slabs will be full of inclusions (not forgetting the mud, sand, rocks and whatever else I got in there), lots of cleaning but still there will be lots of chains blunting and stone damage, no doubt about it, so here it is,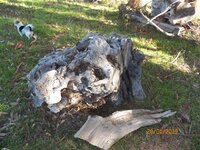 The other Macrocarpa logs that I have stored for slabbing are the ones Merissa an I cut from a couple of adults (80 years+)Macrocarpa trees only a couple of miles out of town here, that was is 2007-8, they are 3 logs in total one is shorter the other two are about 9' long and here they are,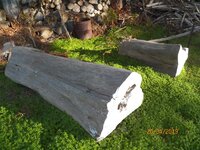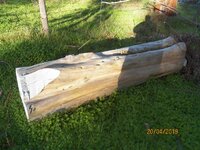 The last one to slab will probably be one or 2 quarters of the large Red Gum stump Merissa and I cut and brought home and 2010 or so,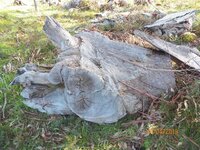 after all these logs slabbed between 2"1/4 to 4"1/4 I will decide how to proceed from there, I will not be surprised if I endup getting a few slabs that I will not cut into pieces but instead make some tables with them or sell them to someone that will do the same thing, will see, my higher bet is on the multi crotch piece, what is yours...?
To be continued...!
Cheers
George
Last edited: