Joined

Jun 9, 2017
Messages

1,632
Location
Greetings from
N
ebraska.
Jarod888 Has Claimed Sets #1 and #4 - PM Sent
goldendj Has Claimed Sets #2, #3, and #5 - PM Sent
This will Close the Thread - Thanks to everyone! - Dave
I am usually buying exotic blanks rather than selling them, but I have run into a situation where I need to put a few up for sale. I acquired most of these from a gentleman named Souphong Manikhong who lives with his family in Laos, but is also part owner of a family wood art business in California. Souphong sources rare and exotic woods from Laos and brings them to California to support his families wood sculpture business. The blanks that he provides to me are for the most part the scraps left over from the large pieces that they use.
These are a few sets that I have put together. To give you an opportunity to work with a few different species, each set has 5 different burl blanks along with 5 non-burl bonus blanks. The bonus blanks consist of Black & White Ebony also from Laos and some King Cocobolo from Costa Rica. I am asking $50 for the five burls and the non-burl blanks are gratis. I will be shipping USPS Priority Mail, so only sales to those with shipping addresses in the USA - Sorry. Shipping will be $10 so $60 total for one set with PayPal as the preferred payment. Of course if someone should buy more than one set I will adjust the shipping accordingly. (I know it sucks but just like everything else the cost for Priority Mail has also gone up).
The blanks all measure a little shy of 3/4-inch and are about 5-inches long give or take. The pictures are of the actual blanks in each set. I tried to photo them on an angle to show two sides in each picture. My supplier sprays a light coat of shellac on them to help seal them and to provide an indication of how the wood might look after a finish is applied. The bonus Ebony blanks are still coated in wax and did not photograph very well. In my opinion, the pictures do not do justice to how attractive these burl blanks really are. I have also included a few details about the different species these burls came from.
Pyinma is a highly figured exotic hardwood from S.E. Asia. It is also sometimes called Asian Satinwood in the US market and often produces some of the deepest 3-dimensional curl in the world. Burls are rare in the species, but when they are found they yield tight and exceptional patterns.
Afzelia burl is also called Makamong burl in Southeast Asia. It is a beautiful burl that is rare on the world market. Similar in appearance to Amboyna burl, Afzelia burl usually has a more varied figure.

Sindora burl is very rare even in Southeast Asia. It yields a very gnarly and highly figured grain with a wide variety of brown, golden, and tan colors that is highly sought after by fine artisans. The gnarly grain makes the wood very resistant to splitting which is an excellent attribute for pen turners.

Asian Redwood is commonly found in Myanmar, Thailand, Laos, Cambodia, and Vietnam. It is highly valued for its red lumber and is currently considered an endangered species in Southeast Asia due to overharvesting. It has an attractive veined structure and is easy to polish.

Asian Iron Burl is a Southeast Asian wood with a golden-orange color. It is very similar to Asian Amboyna Burl in density and workability but is usually lighter in color. It takes a high natural polish and has good workability with sharp tools. The species is extremely rare, is highly prized, and is rarely exported.

Black and White Ebony is a rare member of the ebony family found mostly in Laos. It tends to crack easily especially when drying so it is usually coated in wax shortly after it is harvested. Pointers for successfully turning it include applying a finish immediately after turning to help slow the drying process, especially on the end grain surfaces.
Cocobolo King is a true Dalbergia Rosewood and was harvested in Costa Rica. Because of its popularity and demand it is now on the endangered species list in Costa Rica. It is extremely beautiful ranging in color from dark red to reddish brown, often with an irregular grain pattern.
If you are interested in any of these sets, please request the set number by replying to this thread and I will send a PM to you so we can exchange the necessary PayPal and shipping address details. Thanks for Looking.
Thank You and Best Regards,
Dave
PS I will also pad the box with a few Birdseye and Ambrosia Maple blanks as well as a couple of Whisky Barrel blanks.
NOTE: The Images for Set #2 were incorrect in the original post. They have been replaced with the correct pictures of Set #2. (Dave)
Set #1 - Click on Thumbnails for Larger View
Claimed by Jarod888 - Thank You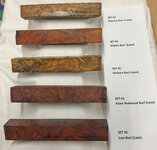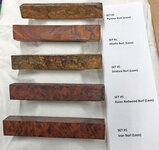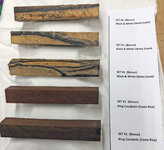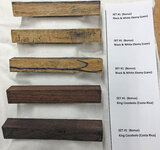 Set #2
(Pictures Corrected Since Original Post)
Claimed by goldendj - Thank You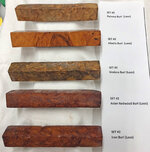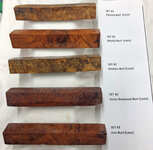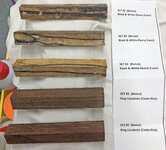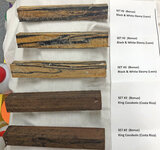 Set #3
Claimed by goldendj - Thank You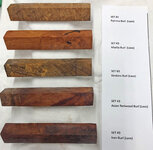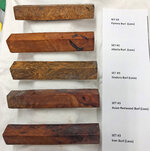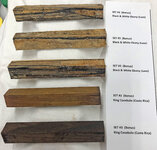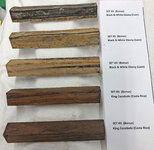 Set #4
Claimed by Jarod888 - Thank You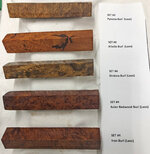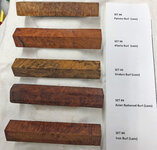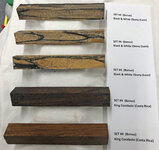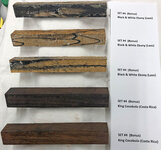 Set #5
Claimed by goldendj - Thank You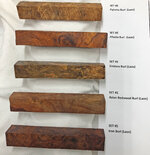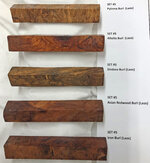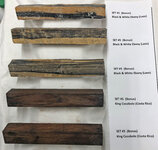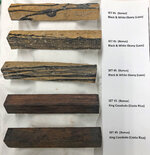 Last edited: